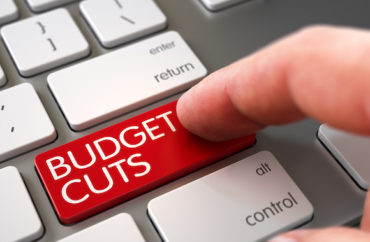 How higher education will weather the COVID-19 storm is unclear, but the forecast is gloomy.
The "quick hits" section in Monday morning's email from The Chronicle of Higher Education paints a grim picture. Hiring freezes. Pay cuts. Budget reductions. The effect the virus and lockdown is having on higher education seems to get worse as the weeks go by.
The Chronicle highlights a situation at the University of Arizona, reporting it has announced furloughs and pay cuts for faculty and staff, as well as a hiring freeze and delays in raises — plus several other measures — to save $26 million of an estimated $250-million loss.
It also reports Boston University, estimating a $52 million loss, has announced pay cuts for top administrators; Vermont State Colleges system may recommend the closures of two of its campuses; and Bowling Green State will work to ax $27 million from its budget. Elsewhere in the Chronicle, you'll read Valparaiso recently announced furloughs and pay cuts, too.
It's a trend that can be found in the pages of local news outlets as well.
Bradley University is eyeing up to $40 million in cuts to stay afloat, Central Illinois Proud reports. Missouri Western State University is looking at $5 million in budget cuts that could eliminate "about 50 programs in which students can currently earn a major," KQTV Missouri reports.
Baylor University is looking to cut a whopping $65 million to $80 million from its budget for the upcoming fiscal year, reports KWTX Waco, citing an email from its president to faculty and staff. And a headline in the Athens Banner-Herald declares "Georgia public colleges could take $350 million hit from virus."
The University of Cincinnati's president, calling the situation an "unimaginable crisis," is grappling with a hiring freeze, spending cuts, and pay cuts for the university's leadership team as it stares down a $47 million deficit, Cincinnati.com reports.
In Wisconsin, UW-Whitewater announced furloughs as one way the institution will take on its financial hardships due to the COVID-19 pandemic, the Daily Jefferson County Union reports.
And on and on it goes. It's like the perfect storm has hit higher ed.
For one, colleges and universities are already losing income from refunds for spring 2020 room and board. Next, international student enrollment is likely to tank come fall, a big source of revenue income for many schools. Enrollment in general is likely to drop as well as young people and families decide college is not the right choice at this time for many reasons, both economic and health related.
What's more, state coffers are going to be tight because the lockdown has strangled the economy into a recession, meaning less money for colleges and universities in this next budget cycle and beyond.
Underscoring all this, a paradigm shift over online learning has taken place as students are forced to shift to distance learning during this crisis. It's shown young people and families they can earn a college degree from the comfort of their own living room and save tens of thousands of dollars to boot.
As The College Fix pointed out at the onset of this crisis: "when large universities shift their course offerings online during a global pandemic, it might get students wondering – why would they continue to pay exorbitant fees for dorms, meal plans, and parking, when they can get the same instruction sitting at home in front of their computers?"
"Once a large university proves it can provide a reasonable facsimile of its course offerings without the enormous expense, students may start to demand they do so."
While the federal government's CARES Act provided nearly $14 billion to support postsecondary education students and institutions, it may be more of a band-aid for something that needs a tourniquet. One thing looks for certain, however: the landscape of higher education will be deeply changed by the coronavirus.
MORE: Universities hit with class-action lawsuits demanding tuition refunds
IMAGE: Tashatuvango / Shutterstock
Like The College Fix on Facebook / Follow us on Twitter