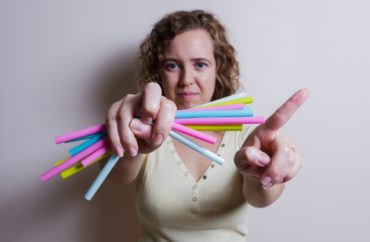 Campus bans on plastic straws 'symbolic effort' with little impact on marine life, expert says
Ever since a video of a sea turtle with a straw up its nose went viral, more and more environmental activists have advocated banning plastic straws, and many have heeded that call, from the city of Seattle to Starbucks.
College activists, meanwhile, are doing their part to make sure universities join that cause célèbre despite stats showing rivers in Africa and Asia are responsible for 93 percent of the plastic trash that ends up in the ocean.
This fall, the University of Southern California will no longer offer straws in its dining halls as a direct result of a student-led petition, the Daily Trojan campus newspaper reports.
The petition was launched by the student club Environmental Core, or ECore, whose members declined to comment to The College Fix on whether or not they believe this new policy will actually make an difference in the amount of plastic Americans use or the world's oceans.
Taking it a step further, Duke University this summer enacted a ban on plastic straws and other disposable plastic, including bags and forks. This new effort joins the college's established ban on Styrofoam.
In April, Knox College in Illinois also banished plastic straws from campus, replacing them with biodegradable paper straws. The effort was spearheaded by the Student Senate's Sustainability Committee, which brought the proposal to the school's food service provider, Bon Appetit. The student group did not immediately provide The College Fix with a statement about its efforts.
Plastic straws were also banned at the University of Portland, which also uses Bon Appetit. The plastic straws were replaced by paper ones on a campus that has also banished plastic water bottles, the Beacon campus newspaper reports.
Chico State University has also reportedly started to use biodegradable paper straws in place of plastic ones. And apparently Johns Hopkins University was ahead of the game, it banned plastic straws from dining halls two years ago.
Meanwhile, Bon Appetit, a California-based food service provider to more than 100 colleges, has decided to stop using plastics straws altogether by September 2019, according to their Director of Communications Bonnie Powell.
Many major news outlets and companies have cited the figure that Americans use 500 million plastic straws each year. However this figure was determined through a series of phone interviews in 2011 conducted by Milo Cress, then nine years old.
In an interview with NPR, Senior Resource Specialist for the Natural Resources Defense Council Darby Hoover noted that although plastic straws do not make up a large portion of plastic consumption in the U.S., they are considered "low-hanging fruit" and an item that will not cause much controversy to ban.
With that, more and more organizations continue to move away from plastic straws. Starbucks announced its plan to ban straws by 2020. Even the Patriot's quarterback Tom Brady has campaigned against the use of plastic straws.
As to whether banning plastic straws really protects sea life and prevents pollution, that remains debated.
Angela Logomasini, a senior fellow at the Competitive Enterprise Institute, told The College Fix that really plastic is a "disposal problem, not a consumption problem." She said that banning straws in certain cities or on college campuses will do little to protect marine life. The U.S. actually disposes of waste very responsibly. The problem comes from other countries that do not dispose of their waste responsibly, which ends up hurting sea life, she said.
Logomasini said she sees bans on plastic straws as more of a "symbolic effort" with little impact on marine life. Yet these bans continue to be put in place due to misinformation, she added, noting she believes the number of straws people use is blown way out of proportion and many straw usage estimates are inaccurate.
Logomasini cited fishing nets and fishing lines as a greater threat to marine life than plastic straws and suggested that if activists really wanted to make a difference they would shift their focus.
What's more, others are critical of no-straw policies because they are burdensome for people with disabilities who need straws to drink. For people with disabilities, paper and biodegradable straws are not a sufficient substitute, in fact there is no comparable substitute.
MORE: Northwestern bans bottled water despite study that found trash increased after ban
IMAGE: Zoltan Galantai/Shutterstock
Like The College Fix on Facebook / Follow us on Twitter