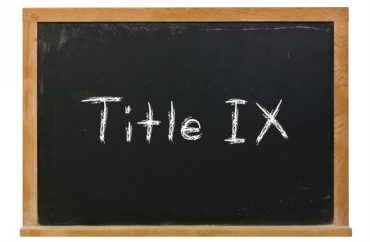 UPDATED
Some institutions will stick with Obama-era directives regarding sexual assault
Universities across the country have elected to stick with the Obama administration's Title IX guidance documents on sexual misconduct procedures, rather than avail themselves of the flexibility in interim guidance issued by the Trump administration.
Late last month, the Department of Education discarded the directive that colleges follow a "preponderance of evidence" standard when adjudicating sexual misconduct claims. Among many other changes, the new parameters allow colleges to use a higher "clear and convincing evidence" threshold in determining whether an accused student is responsible, in addition to the preponderance standard.
Education Secretary Betsy DeVos* had claimed previous guidance had been unfairly deployed against those who were accused of assault and had "weaponized" the Department of Education to "work against schools and against students."
The new recommendations will function as an interim policy while the department receives public input before crafting permanent, binding regulations.
In spite of the new instructions, universities across the country have announced their continued commitment to Obama-era guidance, which is not legally binding.
Valerie Simons, the University of Colorado's Title IX coordinator and executive director of the Office of Institutional Equity and Compliance on the Boulder campus, said she believes CU already provides fairness to all involved in campus sexual assault investigations.
"One of the priorities has already been a prompt, equitable and fair process for those accused of sexual violence and the victims," Simons told The Daily Camera. "There will be no immediate changes to either our sexual misconduct policy or our OIEC policy."
"We really do want to assure our entire community that we are still here for them," Simons added, "and we will continue to ensure full access and transparency for everything we do."
Simons did not respond to repeated inquiries from The College Fix.
Two years ago, CU-Boulder paid a $290,000 settlement to a professor whom it tried to fire after he started researching how it "intentionally and systematically manipulated the evidence" in a sexual-misconduct investigation of a male student.
Months earlier, it paid $15,000 to a male student found responsible for sexual assault so that he would withdraw from the university, promised to seal his disciplinary record and give him a positive reference. That led one due-process lawyer to conclude the administration either did not consider him "a sexual offender or any kind of threat to other students," or that it "put students at other schools at risk of sexual assault from a known offender to further its own interests."
At George Washington University, President Thomas LeBlanc made clear he would continue to follow the Obama administration's six-year-old Title IX procedures.
"I want to make clear to all members of our community that we have no intention of removing the support currently in place for survivors of sexual assault," LeBlanc said in a statement. "We will continue to take allegations of sexual misconduct and sexual violence very seriously."
LeBlanc claimed the university "used [the Obama-era evidence standard] in all cases regarding potential student code of conduct violations, including Title IX cases, since before the 2011 guidance from the Obama administration. The university is continuing to use this standard."
St. Edward's University, a Catholic university in Austin, Texas, will also forego the new rules issued by the Trump administration.
Lisa Kirkpatrick, Title IX coordinator, told the student newspaper Hilltop Views: "One of the things I want our campus community to know is, right now, we do as we have been doing … It's business as usual, nothing has changed on this campus."
"There are standards that we have in our community," Kirkpatrick added, "that are less about the law and more about our mission … Those are just as important to us."
Kirkpatrick encouraged everyone to "get involved, show up, go to an event … If you teach, add the information about Title IX in your syllabus."
The Fix reached out repeatedly to the offices of both LeBlanc and Kirkpatrick. Neither responded.
UPDATE: Sandra Zaragoza, a spokeswoman for St. Edward University, reached out to The Fix on October 10 with a statement claiming that St. Edwards "does not anticipate making significant changes to our process prior to new federal rules being finalized. The university awaits the rulemaking outcomes from the Department of Education, which will provide final Title IX regulations. Once those regulations are issued, the university will review them with legal counsel and consult with appropriate members of our community in order to maintain compliance with the Department of Education requirements."
As stated above, The Fix reached out to Kirkpatrick's office at St. Edward multiple times for comment, but received no response before publication.
MORE: Obama's bureaucrats still running Title IX show in Trump administration
MORE: Title IX bureaucrat group charges $1,499 to teach you about due process
IMAGE: Shutterstock
Like The College Fix on Facebook / Follow us on Twitter