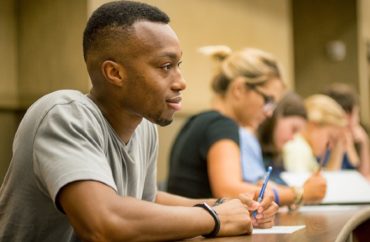 One scholar argues students may be better off without them if the classes are 'corrupted by left radicalism'
The University of Alabama will strip down its humanities core requirements for undergraduates beginning in fall 2025, removing mandatory credits in literature, fine arts, history and foreign language as part of a major core curriculum reform approved by faculty.
Reducing the number of core requirements will give students greater flexibility to commit more time to their majors and minors as well as to pursue a double major or take on experiential learning such as internships and study abroad, according to the public university, which recently announced the changes in a news release.
Some students told The College Fix the move may help them graduate more quickly, and one scholar said it also might save students from overly biased courses.
The university is reducing overall general education requirements from 53-55 credit hours to 37-38 credit hours, according to the university's "General Education Reform Page."
Students will also only be required to take 9 hours – reduced from 12 – of history or social and behavioral science, but this requirement can be fulfilled with coursework in subjects such as sociology or other alternatives to history.
One scholar argued the change might not be all bad.
"There are two completely different ways of analyzing this situation, and the choice between the two rests on what the local conditions are on that particular campus," said John Ellis, professor emeritus of German literature at UC Santa Cruz and author of the 2020 book "The Breakdown of Higher Education: How It Happened, the Damage It Does, and What Can Be Done."
"The first: if the history and literature courses are still uncorrupted by left radicalism, and give serious, thoughtful and knowledgeable accounts…then this proposal would represent a real loss to students," he told The Fix via email.
"The second: if those courses are as they now are on most American campuses … heavily corrupted by left radical politics, so that American history is presented by instructors who hate the country … and if literature is presented only through the medium of race-gender-class, the proposal might instead be part of a recognition that these courses are at best a waste of time, and at worst do actual damage," Ellis said.
"In which case, downplaying their importance would be a real benefit to students."
The university had convened in 2018 a task force composed of professors across various disciplines to to develop a new general education plan, according to its website. The majority of the faculty voted online in November 2022, and a majority, 60 percent, approved the new curriculum. 
The Fix reached out to the task force for comment but has not received a response.
Students value the humanities but call their the courses 'woke' and 'monotonous'
Echoing Ellis's concerns, Alabama students expressed mixed feelings about the changes. 
"The literature and history classes I've taken have been very woke and left leaning but I also understand the value of having a well-rounded education," Susana Edgecomb, a junior studying social work and political science, told The Fix. "I'm very torn because I wish I could've taken less of these core classes so I could better focus on my major from the beginning." 
However, she also stated the humanities are a "crucial part of higher education" and wrote the "changes will be a loss for students even though leftist indoctrination is a problem in this field."
To partially replace the humanities courses, the university instituted a 2-credit series of "First Year Experience" courses and "Advanced Education Requirements," which consists of three courses: "Writing Intensive," "Cultures & Societies," and a capstone course.
Ginger Morrow, a junior studying political science and public relations and editor-in-chief of the new right-leaning campus paper Capstone Free Press, told The Fix these changes may be beneficial for students who want to graduate quickly, save money and focus on their major.
However, the new Cultures & Societies requirement "seems like another opportunity to inject politics in the learning of a student who isn't studying it," she said.
Reagan Waggoner, a freshman studying mathematics and economics, told The Fix she is "passionate about liberal arts education" but is dismayed many of the courses at the university have been "dumbed down" for a large segment of the student population unprepared for college.
Waggoner cited a music course titled "Intro to Listening" and an introductory English course in which the instructor employed a "labor-based grading system," she said.
"Overall this leads to monotonous general education courses that do not stimulate learning," Waggoner said via email.
MORE: 'Department of Literatures in English' at Cornell revised curriculum to promote diversity
Editor's Note: Ginger Morrow is a College Fix contributor. 
IMAGE: University of Alabama Student Handbook
Like The College Fix on Facebook / Follow us on Twitter