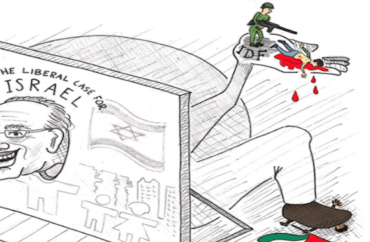 Editorial caricature accused of being anti-Semitic
A cartoon in the school newspaper at the University of California, Berkeley has drawn the fire of numerous critics, including the school's chancellor, for its promotion of anti-Semitic tropes.
The cartoon, drawn by artist Joel Mayorga and published by The Daily Californian, depicts a middle-aged man—intended to resemble Harvard professor Alan Dershowitz—posing in a backdrop emblazoned with the words "The Liberal Case for Israel." Behind the backdrop, the man is holding up a brutal miniature scene in which an Israeli Defense Forces soldier is standing, gun drawn, over a bloodied facedown corpse. The man is also using his foot to squash an individual holding a Palestine flag.
The caricature of Dershowitz adheres to the stereotypical depictions to which Jews have often been subject: he is presented as a shady-looking character with a big nose and thick lips.
The university's chancellor, Carol Christ, "condemned [the cartoon's] publication" and called it "offensive, appalling and deeply disappointing" in a letter to The Californian's editor.
"Are you aware that its anti-Semitic imagery connects directly to the centuries-old 'blood libel' that falsely accused Jews of engaging in ritual murder?" Christ wrote. "I cannot recall anything similar in The Daily Californian, and I call on the paper's editors to reflect on whether they would sanction a similar assault on other ethnic or religious groups."
Christ's condemnation comes a few months after she doubled down on her commitment to free speech on Berkeley's campus. "We must show that we can choose what to listen to," Christ wrote in August, "that we can cultivate our own arguments, and that we can develop inner resilience" in the face of controversial ideas and opinions.
The pro-Israel activist group StandWithUs also released a statement condemning the cartoon. "StandWithUs condemns an anti-Semitic cartoon published October 18 in the Daily Californian, the UC Berkeley student newspaper," the statement reads. "…The image contains classic stereotypes of Jews: a figure with a hooked nose and thick lips acting in a conniving and dishonest manner to cover up a bloody crime."
StandWithUs's Northwest Campus Director, Noa Raman, said that the cartoon is part of a style of propaganda that "dehumanize[s] the target group, turning them into marginalized objects of hate," stating: "It is shocking to see a depiction of a prominent Jewish intellectual echo traditional anti-Semitic cartoons and tropes, which were designed to incite hate towards Jews, in a student newspaper at a prestigious American university. When stereotypes are repeated and recirculated, they become confused with reality."
"Caricatures like this were the stock-in-trade of anti-Semitic propaganda in Nazi newspapers such as Der Sturmer," the statement continues. "They are frequently seen in white supremacist web sites today, such as the Daily Stormer."
The cartoon, published a week ago on The Californian's website, remained up at the time of this posting. On Wednesday afternoon, the paper published an editor's note regarding the drawing, in which editor in chief Karim Doumar wrote:
The artist's intent was to argue that the contents of Harvard law professor Alan Dershowitz's recent lecture at UC Berkeley were hypocritical. We regret that the artistic rendering distracted from the discussion the artist was trying to start.

The criticism we have received reaffirms for us a need for a more critical editing eye, and a stronger understanding of the violent history and contemporary manifestations of anti-Semitism. We appreciate those who have reached out offering to help us better our understanding of these issues. We will be taking them up on the offer.
"We want to encourage readers to continue sending us feedback, questions and concerns," Doumar concluded.
MORE: Intersectionality is anti-Semitic at its core, says famed Harvard law professor
IMAGE: The Daily Californian
Like The College Fix on Facebook / Follow us on Twitter