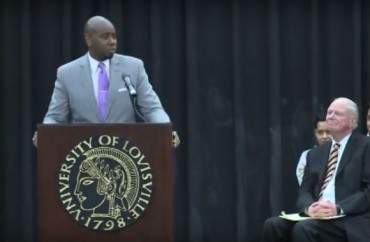 The University of Louisville has earmarked $2.4 million to be used specifically for the purposes of hiring "diverse faculty."
This is the same university that came under fire last year for its ad seeking a physics professor who was not white or Asian.
The school's ad read in part: "The Department of Physics and Astronomy announces a tenure-track assistant professor position that will be filled by an African-American, Hispanic American or a Native American Indian [sic].'"
According to a memo sent to the campus community last month, campus leaders have launched a "new program to support diverse faculty hires."
"When fully implemented, an allocation of $2,430,000 will support the hiring of new diverse faculty over five years," the university states. "The program will be initiated in AY 2016-17 and guidelines for applying for the funds have been completed."
In an email to The College Fix, campus spokesman John Karman said while campus leaders are committed to diversity, "overlooking qualified non-minority professors to meet that goal is not part of our strategy."
After the controversial job posting for the Department of Physics had sounded alarm bells last year, it was removed. At the time, several administrators at other campuses had called the ad everything from inappropriate to a violation of federal laws, and a University of Louisville spokesperson called the ad an "error."
As for the public university's more recent diversity endeavors, in addition to the millions for diversity faculty hiring, the school has also pledged $1 million to fund various diversity initiatives on campus and $50,000 to fund scholarships for students who grew up in "Spanish-speaking environments."
Before the end of the fall semester, campus leaders have also promised that a Confederate statue will be removed from campus. They have also begun fundraising efforts for a new facility to house the "Identity Center."
MORE: U. of Louisville job ad for science prof: Whites, Asians need not apply
MORE: Black prof warns U. of Louisville not to hire 'safe' blacks and Hispanics
Like The College Fix on Facebook / Follow us on Twitter
Correction: This article has been amended to reflect University of Louisville is a public institution.