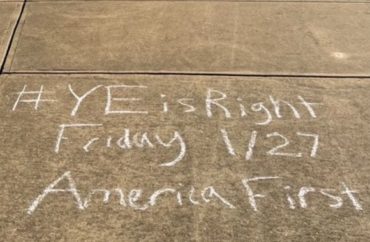 Came after free speech group sent two letters
University of Alabama officials have backed off their investigation into the chalking of pro-Kanye West messages on campus after a free speech group pressed them on the inquiry.
The decision comes after the public university announced in January it would investigate the chalkings by two individuals which showed support for the rapper who now goes by the name "Ye." He has said he intends to run for president again in 2024, after running in 2020.
The Foundation for Individual Rights and Expression celebrated the university's decision to reverse course.
"FIRE commends UA…For making clear they will not punish subjectively offensive but protected expression on their public campuses," the group wrote. It also thanked the University of Florida for backing down on a similar inquiry into similar messages on campus.
FIRE previously warned the university:
The implication that students could be investigated for similar messages would very likely "chill or silence a person of ordinary firmness from future First Amendment activities." If UA can investigate chalking that "#YeIsRight" could it investigate a student for tweeting the same message or saying it in class?
While these decisions are a positive step, a student at Tulane University faces an inquiry for her essay defending "Ye."
University officials condemned student Sarah Ma for writing an essay at a publication unaffiliated with Tulane and then told her that because of the threats against her, she should probably leave campus.
"While the importance of free expression on a university campus cannot be overstated, words that run counter to our core values impact our community," Dean Erica Woodley told Ma in January.
MORE: In 'victory for free speech,' Cornell hosts climate change debate
IMAGE: Stop Antisemitism/Twitter
Like The College Fix on Facebook / Follow us on Twitter