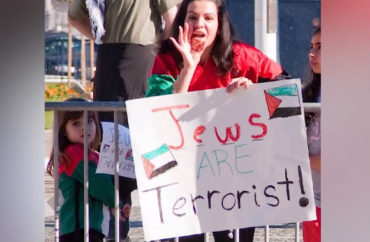 Seven months of 'continuous stall tactics and almost no action' after federal complaint
The University of Illinois at Urbana-Champaign has made it official: It will not tolerate discrimination against students for their Zionism.
The flagship campus made the announcement three days after the federal government said it had opened an investigation of UIUC's alleged discrimination against "students of Jewish descent."
The joint statement on anti-Semitism that UIUC issued with several Jewish groups on Monday does not mention the Department of Education investigation. The law firm for the groups, one of the co-authors, received the government letter the previous Friday.
The university pledged to create an "Advisory Council on Jewish and Campus Life" and educational programs on anti-Semitism, and overall promised to crack down on anti-Zionist harassment on campus.
"This statement and the commitment it demonstrates is important, however, it is only a first step," according to a press release from the non-UIUC signatories: Jewish United Fund Chicago, Illini Hillel, Hillel International, Illini Chabad, law firm Arnold & Porter and the Brandeis Center for Human Rights Under Law.
The joint statement "pledges the university to adhere to its legal obligations to respond to anti-Semitism as it manifests itself today at the University of Illinois," it says.
MORE: Pro-Palestine UIUC students defend violence against pro-Israel groups
"It is so gratifying to see now at this point the university taking [anti-Semitism] so seriously," Brandeis Center President Alyza Lewin (left) told The College Fix in a phone interview.
One of the challenges in confronting modern anti-Semitism is that many people do not truly understand what it is, she said: They only recognize "anti-Semitism that resembles the Holocaust," such as a swastika and an overt attack on an identifiably Jewish person.
"We are clearly pleased that the university issued this statement, recognizing how serious the situation is, and expressing things that show an appreciation of the many forms of anti-Semitism taking place on the campus today," Lewin said.
The timing of the statement is a fluke, she emphasized: The university agreed weeks beforehand to the statement, but the Jewish groups received notice about the federal investigation days before the scheduled Monday release.
Lewin told Jewish Telegraphic Agency her group would not withdraw the federal complaint just because of the university's stated commitment: "A statement is just a statement, and now the hard work starts because now we have to convert those words into actions."
A university spokesperson told JTA the joint statement was "independent from any DOE process."
Alleges UIUC didn't respond 'appropriately' to hostile environment claims
The Jewish groups only disclosed Oct. 23 that they had filed a federal civil rights complaint against UIUC through the law firm and Brandeis Center, which served as "the federal policy advocates and experts."
The Department of Education's Office for Civil Rights letter, provided by a spokesperson for the Jewish groups, says that complaint was filed March 24. It alleged UIUC failed to respond "appropriately to incidents that created a hostile environment for Jewish students," and OCR "determined that the complaint is appropriate for investigation."
Jewish students at UIUC alleged they had experienced "an unrelenting campaign of anti-Semitic harassment" on campus in violation of Title VI's ban on national-origin discrimination for federally funded institutions.
The Brandeis Center posted a 13-page "summary" of the complaint with an "Abbreviated List of Incidents" going back five years. It includes repeated vandalism of the Chabad Center for Jewish Life's menorah and swastikas painted on a wall facing a Jewish sorority and a Jewish student's dorm room door.
MORE: Jewish students fight back against 'Zionism is Racism' events at Columbia
As for official actions, a vice chancellor removed a Jewish student from the student election commission in the midst of a "referendum campaign" on divestment from Israel, allegedly justifying the decision because "she's biased."
Last month a pro-Israel Jewish student senator resigned from her post, citing "persistent harassment" from her colleagues "on the basis of her Jewish and Zionist identity." Her resignation letter, excerpted in the summary, said the "sole focus" of most student government officials was ensuring that students like her "do not feel safe and welcome."
The Brandeis Center said it gave UIUC seven months to address its concerns after filing the complaint, yet the university continued to blow off the issue.
"In the face of continuous stall tactics and almost no action from the university, we decided to publicize our efforts," Lewin wrote Oct. 23. "We hope public awareness of this dire situation will prompt the university to finally acknowledge and address the egregious anti-Semitic harassment it has swept under the rug for far too long."
'Zionism is an integral part of their identity'
The joint statement released Monday emphasizes that UIUC "must do more" to address discrimination against Jewish students.
"Over the past several months, and especially over the past few days," the university has had "meaningful and productive discussions" with counsel for Jewish students and local Jewish leaders on how to "support a safe and welcoming environment for Jewish and pro-Israel students."
Contradicting its own student government's view that anti-Zionism does not constitute anti-Semitism, UIUC said that for many Jewish students, "Zionism is an integral part of their identity and their ethnic and ancestral heritage." They have "the right to openly express identification with Israel" in university-sponsored activities "free from discrimination and harassment."
The university denounced the "double standards" applied to Jewish and pro-Israel students, including incidents that "demonize or delegitimize" them or "compare them to Nazis," when they try to participate in activism against racism.
Jewish students shouldn't fear becoming a target because they "proudly display religious symbols," the joint statement continues: "Anti-Semitism, anti-Semitic forms of anti-Zionism and other forms of discrimination have no place at this university."
MORE: UIUC student government denies anti-Zionism is anti-Semitism
The Advisory Council on Jewish and Campus Life should be up and running by spring semester, according to the statement. It will include a mix of undergraduate and graduate students, faculty, staff, alumni and representatives from local Jewish communities.
"We thank UIUC Chancellor Robert Jones for joining with us" to recognize that years of anti-Semitic harassment are "unacceptable," the Brandeis Center said. "The Chancellor's validation of these students' painful experiences is significant."
Anti-Semitism is "the world's oldest hatred" but it "morphs" a little with each generation, Lewin told The Fix. She said "one constant" is that anti-Semitism "always takes whatever is that generation's greatest evil … and it pins it on the Jew" in order to convey that "the Jew is the cause of society's misfortune."
Judaism today is "unusual" in the sense that Jews share a sense of "peoplehood," not just a religion. They have a strong sense of a shared ancestral and ethnic heritage "deeply tied to the land of Israel," she said.
Contrary to the white supremacists of the far right, far-left activists twist support for the "Jewish homeland" into "some political viewpoint, or support for political policies," Lewin continued. This results in exclusion of Jews "on the basis of their identity from all sorts of campus programs."
MORE: Student leaders co-sponsor BDS events, pass weak anti-Semitism resolution
IMAGES: Jerusalem U/YouTube, Anti-Defamation League
Like The College Fix on Facebook / Follow us on Twitter