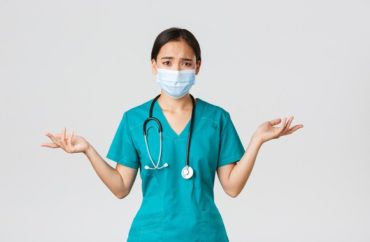 'Unprofessionalism' used to justify actions 'with little to no due process provided'
The University of Iowa used COVID-19 as an excuse to improperly remove a student from a medical fellowship, she told The College Fix.
The taxpayer-funded institution falsely claimed the student was "argumentative" about the proper use of personal protective equipment in the hospital.
She believes the university weaponized the concept of "professionalism" in response to her complaints about unilaterally switching her academic mentor and how colleagues were treating her.
The university didn't provide the criteria it used to make the decision, instead giving her a laundry list of arbitrary claims, including defensiveness and "deflecting feedback."
The student was expecting her fellowship to continue when the school told her June 25 –  just two weeks before the academic year was set to begin – that she wasn't coming back.
She told The Fix she was asked to negotiate a contract in the middle of her three-year fellowship, even though yearly contracts are not the norm. Fellows are also supposed to get at least four months notice for termination or non-renewal.
The Fix independently verified the student was in the program she claimed to be. It's not naming her, or officials relevant to the dispute, because she and her lawyer are waiting for the university's response to a mediation offer.
The U.S. Equal Employment Opportunity Commission is "involved" and the Accreditation Council for Graduate Medical Education filed a complaint with the program, she said. In a later letter to her attorney, the program abandoned its initial explanation and cited resistance to mentorship as the basis for removing her.
The student contacted The Fix after reading about the University of Iowa's College of Dentistry charging a student with "professional misconduct" for challenging its official statement criticizing President Trump's executive order against race and sex stereotyping.
"This term, unprofessionalism, is used as an umbrella to justify actions the university carries out with little to no due process provided," she wrote in an email.
The blowback against the College of Dentistry led Dean David Johnsen to promise state lawmakers to stop making official political statements. The state's Board of Regents went even further late last month, banning presidents, vice presidents, deans and department directors from "taking an institutional position on policy matters" without board approval.
'Performance plan' imposed for questioning mentor switch
The student's problems began when the university switched her academic mentor without warning.
In a phone interview with The Fix, she said she chose the University of Iowa program in large part because of its mentorship and in particular her specific mentor.
But her program director expressed disapproval of her mentorship on multiple occasions. This person "stated she did not feel a division chief should be an academic mentor because of conflict of interest," she said. "She also felt I had unrealistic expectations about mentorship."
Eventually the student found that she was never scheduled to work with her mentor. After she inquired about the issue, she accidentally received a message that described her concerns as "conspiracy theories."
The university told her in mid-April she would be placed on a performance plan. These are usually reserved for "knowledge gaps [or] patient safety issues," she said.
MORE: U. Iowa says questioning its criticism of Trump is 'professional misconduct'
Afterward, the student was informed that her mentor had been changed without her knowledge and that she would need to write a mentorship contract for her new mentor.
"It is still not clear what initiated that change," she told The Fix. "This was not the mentor's decision but that of an educational committee or the [graduate medical education] director."
In her telling, mentorship contracts are not a normal procedure for fellows. The student said another doctor told her he had never heard of mentorship contracts and that he was personally affronted that this was happening.
Her original mentor allegedly said the university was "acting in a very draconian way" and personally disagreed with the way the switch was handled.
Despite the unorthodox nature of her mentorship switch, the student drafted the contract and turned it in before the due date. She asserts that this represented her willingness to accept and work with her new mentor.
Ten days later, on June 25, the university informed her of the non-renewal. It mentioned an earlier incident that caught her off guard, related to personal protective equipment.
Not allowed to eat on break – or leave the unit?
Medical professionals are required to wear both masks and shields in the unit as part of its COVID-19 protocol, according to the student.
On the particular day mentioned in the non-renewal letter, she had given a presentation and was eating lunch at her desk, because doctors are required to stay in the unit at all times to provide emergency care when necessary.
She had to take a phone call with a hospital official and exited her desk to the family entrance area. The student was wearing a mask while on the phone when a nurse manager came up to her and handed her a face shield.
"I was confused because I didn't know I was breaking a policy and it was odd for her to come hand me my face shield while I was on the phone out there," she told The Fix.
She went to the nursing office to ask if anyone had complained, or if there was some other reason for this confrontation. The nursing staff denied any complaints but said both shields and masks must be worn in the unit at all times, adding that no staff should be eating in there.
The student said she and at least one other coworker were concerned with this representation, as staff in this unit are unable to take breaks or leave, owing to its nature and patients needing constant care and attention.
While this incident quietly made its way to her program manager, no one discussed it with her until she received the June 25 letter.
She was taken aback by the inclusion of the PPE incident, as well as other claims. The student said she immediately apologized to the nurse manager who was involved, but that person assured her that she had not been argumentative.
MORE: U. Iowa dean promises to stop making political statements
When she relayed her statement and asked the appeals committee to contact the nurse manager regarding the PPE incident, they ignored her request.
In a later letter to the student and her attorney, the university's only basis for removal seemed to be mentor-related.
She appealed the non-renewal, but was only given one of her requested documents. Prodded by her lawyer, the university turned over more documents.
One was a "Clinical Competency Exam," which had not been discussed with her. The Accreditation Council for Graduate Medical Education requires that students be provided such feedback. She claims that because of this, the university is in violation of its accreditation.
The student also believes that she was forced out for complaining about her treatment by  colleagues. Her program director was not receptive to her concerns, in her telling.
"I was told [these colleagues] did not want to 'be friends.' The division supported this perspective. For me, this was a work issue that needed to be addressed," she told The Fix. But "the program director just didn't reprimand them."
She explained that these colleagues treated her with hostility, including by excluding her from patient care, unfriendly interactions and gossiping: "There is a huge issue of favoritism going on."
The university's overarching claim was that the student was not upholding its unspecified "professionalism" standards. She retorted that her colleagues were violating the University of Iowa Health Care Core Values, through gossip, hostility and exclusion, and yet received no punitive action.
MORE: Court holds U. Iowa officials liable for discrimination against Christians
IMAGE: Mix and Match Studio/Shutterstock
Like The College Fix on Facebook / Follow us on Twitter