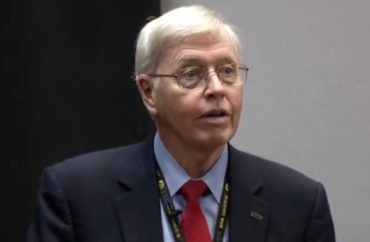 Lawmaker says 'more action will be taken this year' to expand campus speech protections
When a University of Iowa official apologized for accusing a dental student of "professional misconduct" for challenging his criticism of President Trump's policy, he promised state lawmakers he would no longer "comment about current political topics" in his official capacity.
The College of Dentistry and university are staying mum on whether the public promise by Dean David Johnsen (above) applied beyond him personally, ignoring College Fix requests for clarification.
Iowa lawmakers held a hearing last week on November's incident, when university officials threatened Michael Brase with disciplinary sanctions.
The second-year student had responded to an email from College of Dentistry administrators that blasted Trump's executive order against race and sex stereotyping in federally funded trainings.
Administrators said the order "prohibits trainings that are crucial to progressing toward a more equitable and just society" and "strongly" condemned it. In a reply-all message, Brase asked if the college supports "trainings that include race/sex stereotyping and/or race/sex scapegoating?"
At the House Government Oversight Committee hearing, several Republican lawmakers expressed concern and frustration with the manner in which Brase was treated, the Des Moines Register reported.
Rep. Steve Holt asked Johnsen how it could possibly be "inappropriate" for Brase to respond to an email sent by the dean. Johnsen said the initial email "should not have happened."
Brase told The Fix he's not assuming that university administrators will institutionalize Johnsen's promise to cease making partisan political statements and threatening to sanction conservative students for their beliefs.
Though Gov. Kim Reynolds signed legislation upholding free speech rights on the state's college campuses in 2019, Holt told The Fix that "more action will be taken this year" in the General Assembly to expand on those protections.
MORE: U. Iowa charges Brase with 'professional misconduct'
University mum on how it judges 'unprofessional behavior'
The email castigating Trump's executive order was emailed to members of the College of Dentistry and signed by Johnsen, along with 29 additional faculty and staff.
Brase's email elicited several responses from fellow students as well as Prof. Steve Kelly, who agreed with him about the college's penchant for releasing political statements. Johnsen himself replied, claiming the executive order was "related to violence against Black Americans, free speech and basic respect for each other."
A Nov. 9 letter summoned Brase to appear before the Collegiate Academic and Professional Performance Committee for a "Professional Misconduct Review Hearing" two weeks later.
Associate Dean for Student Affairs Sherry Timmons (left) cited his "unprofessional behavior involving the follow-up emails you sent out on a public platform after you were offered other means to continue the conversation."
Brase was alarmed by conditions that barred him from having an attorney accompany him and recording the hearing. His potential consequences ranged from "professional probation" to "dismissal" from the college.
That hearing was canceled two days after Brase notified state lawmakers. During his testimony last week, Johnsen admitted that the college was "wrong" in how it treated Brase and apologized for "fail[ing]" him by attempting to penalize his attempts to exercise his free speech rights.
MORE: Judges grill U. Iowa on why officials shouldn't be liable for 1A violations
Relating his college experience as chairman of the University of Iowa's College Republicans, Rep. Bobby Kaufmann asserted that "there's a different set of rules" on campus, "one for conservative groups and one for liberal groups," that goes back at least a decade.
While Johnsen claimed Brase was "never threatened with expulsion, nor did he face academic punishment," a civil liberties group told Inside Higher Ed the investigation itself had an impermissible chilling effect on a discussion Johnsen started.
"Unfortunately, we've too often seen 'professionalism' used as a pretext to investigate, discipline or chill student speech on matters of public concern," said Adam Steinbaugh of the Foundation for Individual Rights in Education. Even an investigation that doesn't end in punishment "sends students the message that administrators can end their careers for participating in discussion about public policy."
Representatives from the University of Iowa's Office of Strategic Communication and the College of Dentistry did not respond to several email and phone requests for information. The college's phone number went straight to voicemail.
The Fix asked if the university or college intended to observe Johnsen's promise not to issue political statements going forward; how the university, or just the Collegiate Academic and Professional Performance Committee, determines what constitutes "unprofessional behavior"; and why the context of Brase's statement apparently wasn't considered before he was charged.
Brase also claimed that some people in the college "have circulated his name and picture, calling him a racist and a white supremacist," as the Register phrased it. The Fix asked whether the university or the committee was investigating this claim; if this behavior was protected; and if so, why Brase's email response was not considered protected as well.
Holding budgets hostage until universities protect free speech
Brase told The Fix he "appreciate[d]" Johnsen's public admission that the school's actions against him represented a "failure to protect freedom of speech," but added that "only time will tell" if Johnsen's statements will be followed by administrators in general.
He wants university administrators to learn from this situation that it's healthy and "instructive" for "people to disagree with each other." It is "unacceptable" for those in positions of authority to "cancel or enforce disciplinary action" on people holding different political views, Brase said.
He's hoping for increased legal and regulatory "safeguards" to protect students from "unlawful censorship" on college campuses.
Rep. Holt spelled out how Republican lawmakers plan to make that happen, to curb the "assault on free speech" by "liberal elites" and "cancel culture."
They are considering legislation that would add "free speech requirements" to public universities and cut regent budgets until universities commit to protecting free speech by faculty, students and staff, he told The Fix.
Several Republican lawmakers are also advancing legislation that would abolish tenure at the state's public universities and allow faculty to be terminated for "just cause," amid broader concerns about the quality of faculty and "what's taking place on college campuses," as Rep. Skyler Wheeler put it.
Wheeler told the Cedar Rapids Gazette that faculty must be held to a higher standard of performance and professionalism, because "In the real world, if you mess up, and you mess up that bad, you're fired."
MORE: Court holds U. Iowa officials liable for discrimination against Christians
IMAGES: University of Iowa/YouTube, University of Iowa
Like The College Fix on Facebook / Follow us on Twitter