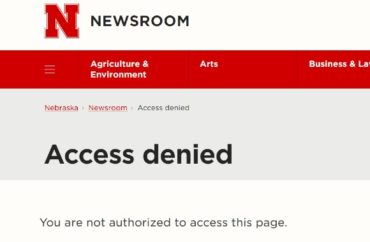 The University of Nebraska hid a press release after a media inquiry
The University of Nebraska-Lincoln removed a news release about a professor who planned to hire Ukrainian refugees as researchers after facing questions from The College Fix.
The public university removed the March 8 news release on May 17 after The Fix asked questions about Professor Oleh Khalimonchuk's claim that he would use surplus COVID and other research grant money to hire Ukrainian postdoctoral researchers, graduate students and senior scientists.
Professor Khalimonchuk (pictured below) will no longer pursue this initiative, the university told The Fix on May 17.
The original news release link has an "Access denied" error message. The announcement from the UNL media team, archived by The Fix, stated that the biochemistry professor would be "offering fellowships" to his Ukrainian peers.
"Khalimonchuk estimated that his lab could accommodate up to three or four Ukrainian biochemists," the news release stated. "COVID-related disruptions have left the lab, like many others, with a temporary surplus of funds that Khalimonchuk intends to put toward hiring those Ukrainian transplants."
The National Institutes of Health "doesn't really care" how its grant money is used, Khalimonchuk told The College Fix originally on May 13 via a phone interview. "I'm free to hire whomever I want" as long as "progress" is made, the Ukrainian-born American citizen told The Fix.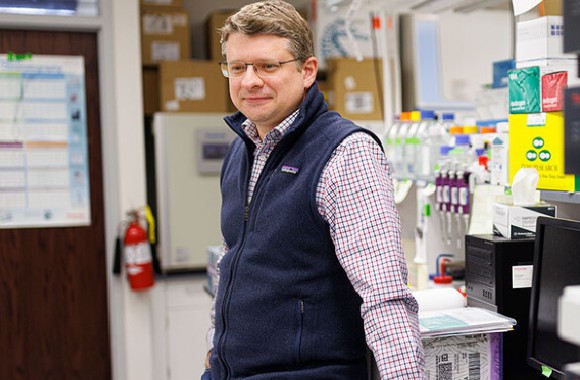 But after The Fix reached out to the NIH for comment on the use of grant money, UNL stated that the hiring initiative had been dissolved. The NIH redirected the inquiry to the university.
"Our review of Professor Khalimonchuk's funding indicates there has been no spending related to your query topic," UNL Public Affairs Director Leslie Reed told The Fix via email. "Professor Khalimonchuk has made no hires in this matter and does not plan to do so."
Reed said "there have been no Ukrainian researchers hired" when asked to clarify if any NIH or other grants had been used to hire refugees. "The plan has been abandoned," Reed stated.
Khalimonchuk did not respond to a May 17 email that asked for more information on the dissolution of the recruitment program and the source of the grant money. He instead forwarded the email to Reed.
He earlier told The Fix that his home country "is well-known for highly educated people" and the arrangement would be a "win-win," as the Ukrainians would provide valuable expertise and assist in his research and he can provide them with "academic asylum."
MORE: University scrubs Chinese COVID origin after student complaint
IMAGES: University of Nebraska-Lincoln
Like The College Fix on Facebook / Follow us on Twitter