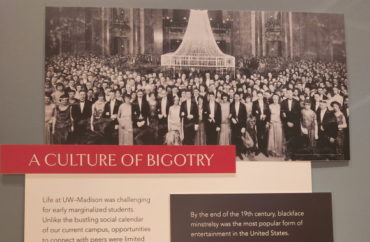 UPDATED
New to the University of Wisconsin-Madison's Chazen Museum of Arts this month is "Sifting and Reckoning," an exhibit which chronicles a history of racism, bigotry and discrimination at the state's flagship public university.
The exhibit, located next to the entrance of the museum and taking up a large wing of the building, begins with a trigger warning and points out exits throughout the exhibit for anyone who finds the subject matter too intense.
"Sifting and Reckoning" largely consists of panels that highlight examples of discrimination and racism at the 174-year-old institution. It debuted Sept. 12 and remains through Dec. 30.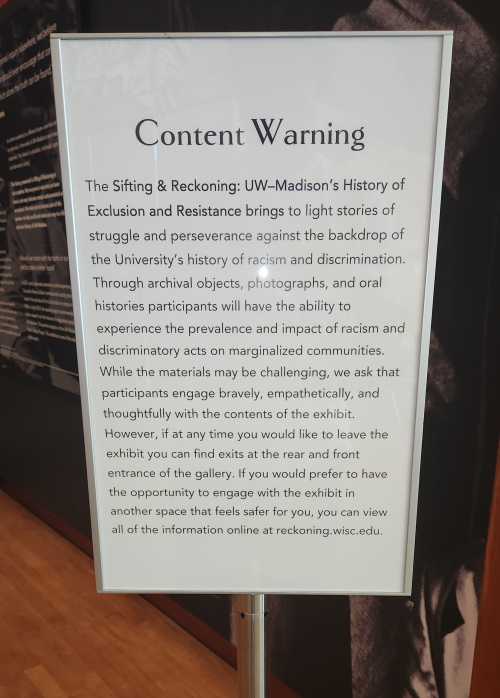 Highlighting the university's historic exclusion, bigotry, resilience and resistance helps create a "sense of belonging" among students, said Kelly Tyrrell, a spokesperson for the university, in an email to The College Fix.
She said the exhibit is far more than just a spotlight on racism.
"UW–Madison needs to be a place where everyone can feel a sense of belonging. The value of the project to students and employees is learning from new or lesser-known perspectives about our past because they inform our present and provide us with a better understanding for how to move forward creating a campus that is inclusive for all," she said.
The exhibit opens by acknowledging UW-Madison's position on ancestral Ho-Chunk nation land and states the school benefitted from being placed on land that belonged to Native Americans.
It also highlights President Abraham Lincoln's role in these actions, a nod toward the controversial Lincoln statue atop Bascom Hill, which did not appear in the exhibit.
"Sifting and Reckoning" also addresses and defends the 2021 removal of Chamberlin Rock, a 70-ton boulder on campus deemed racist by some student protesters. The display includes a quote from former Chancellor Rebecca Blank, who approved of its removal.
"Some will tell you that a rock is just a rock. That to fear harm from an inanimate object is prescientific, irrational. But to be human is to imbue objects with meaning," Blank's quote reads.
"To be sure, the rock is an innocent object, in which we invest meaning. This is a conversation about its symbolic associations, which have intense meaning to some and no meaning to others."
In the center of the exhibit stands a wall which asks "Do you call yourself a Badger? Why or why not?" It invites visitors to write their thoughts on a university pennant and pin them to a clothesline.
The sentiment was split, with some showing devotion to the university and others lambasting it.
"No," one viewer wrote on the wall. "I am largely embarrassed by student culture and choose to distance my identity from it."
"Absolutely," wrote another. "Coming from a BIPOC, LGBT, poor, mentally ill man, I understand UW's efforts to repent and turn from oppressive and abusive past grudges be damned."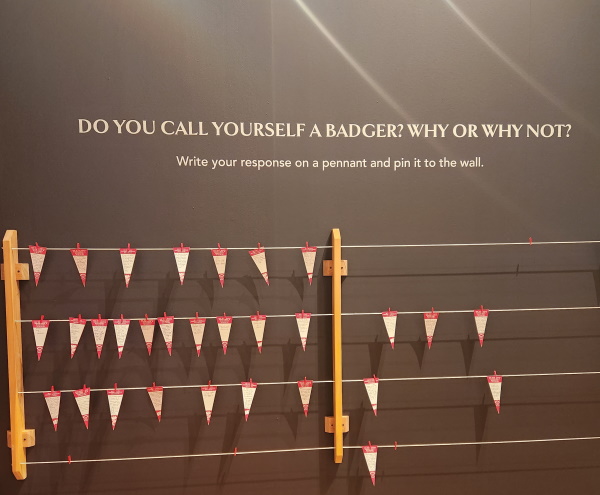 To close out the exhibit, viewers are greeted by a section on student activism, asserting a reputation for Wisconsin as a "protest school," and acknowledging the many changes that have come about at the school due to student demonstrations and demands.
A magnetic wall invites visitors to fill in responses to prompts such as "the university needs to," "I commit to," and "I'm inspired by." Response include:
"The university needs to stop bringing in more BIPOC students to be traumatized when you can't guarantee their safety"

"The university needs to divest from fossil fuels"

"The university needs to get it together man!"
Tyrrell, the university's spokesperson, said the exhibit is part of a greater initiative at the school that has been years in the making.
"The exhibit is one part of the larger Public History Project, which was commissioned by Chancellor Emeritus Rebecca Blank. It began in fall 2019 and has a current end date of mid-summer 2023. The total cost of the Public History Project is around $1 million," Tyrrell said.
Tyrrell said the source of the funding was private and did not come from taxpayer dollars.
"The University of Wisconsin–Madison's Public History Project is a multi-year effort to uncover and give voice to those who experienced, challenged and overcame prejudice on campus," the university's website states.
"The project grew out of a campus study group that looked into the history of two UW–Madison student organizations in the early 1920s that bore the name of the Ku Klux Klan," it states.
While similar in name, the university's main Ku Klux Klan group had no relation to the white supremacist Ku Klux Klan group.
Editor's note: This article has been amended to clarify and correct a quote from the University of Wisconsin Madison's spokesperson. 
MORE: Incoming UW-Madison chancellor declines to comment on fate of embattled Lincoln statue
IMAGES: Jackson Walker / For The College Fix
Like The College Fix on Facebook / Follow us on Twitter