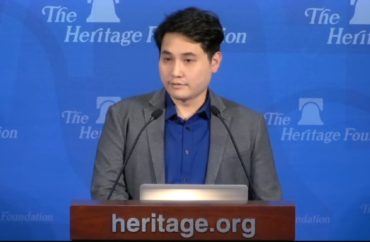 Student organizer 'shocked and bewildered' by 'unilateral' revocation of contract
New decade, same squabbling over controversial campus speakers.
The University of British Columbia cancelled a student group's scheduled event because of an unspecified "concern about the safety and security of our campus community," according to a public interest law firm representing the student group.
The Free Speech Club invited Portland journalist Andy Ngo, a former College Fix writer, to speak on the subject "Understanding ANTIFA violence" at a Jan. 29 event.
A gay atheist whose parents immigrated from Vietnam, Ngo was physically assaulted by so-called antifascists while covering a protest in Portland. He spoke on Antifa violence at the Heritage Foundation in November (below), surrounded by police and security guards.
The Justice Centre for Constitutional Freedoms demanded that the university reinstate the event or else face "legal recourse," according to its Dec. 31 letter to UBC President Santa Ono (below).
The Free Speech Club signed a contract with UBC for the event on Nov. 25 and put down a deposit for the Robson Square venue, the center wrote in a press release. The next month, however, the university "unilaterally" cancelled the Jan. 29 event "without any prior notice" to the club.
UBC has yet to explain whether it received specific and credible threats that prompted it to cancel the planned event.
MORE: UBC banned from Pride Parade due to 'transphobia'
Asked by The Fix for more information on the rationale behind the cancellation, Director of University Affairs Matthew Ramsey provided a statement from Chief Risk Officer Ron Holton, a portion of which was mentioned in the center's demand letter.
The university's risk assessment for the Ngo event "determined the safety and security of UBC students, faculty, staff and infrastructure was at risk if the event was allowed to proceed," the statement reads.
"The university will continue to evaluate any future event bookings utilizing our risk assessment approach in order to ensure the safety and security of our campus community," it concludes. The statement does not elaborate on how UBC determines risk to a given event.
"The appropriate response to violent extremists who threaten access to information in the academy is not to give in to their demands by cancelling the event," Ngo said in the center's press release.
"As is demonstrated over-and-over elsewhere, appeasing antifa ideologues only emboldens them to make more demands," said Ngo, who has been published in The Wall Street Journal and National Review and currently serves as editor-at-large for The Post Millennial. "Their goal is to silence opposition through fear and intimidation."
Angelo Isidorou, chairman of The Free Speech Club, told The Fix he was "shocked and bewildered" by UBC's decision to cancel the event. He said Ngo is not the first "controversial" speaker it's hosted: The club brought conservative pundit and Daily Wire Editor-in-Chief Ben Shapiro to campus on Halloween 2018.
Asked about alternate plans for Ngo to speak off campus, Isidorou said:
We are making some plans but are primarily waiting to see what UBC does. If we take them to court and win, we will set a precedent that will protect these events from being cancelled. So until then, we cannot make new plans.
MORE: UBC professor argues dodgeball 'reinforces oppression'
'This is just the beginning. This is the time to fight.'
The Free Speech Club never got a more specific explanation of the supposed threats to the event from UBC, according to its lawyers at the center.
"If UBC had safety concerns, it did not communicate them to The Free Speech Club or make any efforts to address such concerns," the firm wrote to President Ono. Canceling the event is "an alarming betrayal" of UBC's stated commitment to "providing a forum where ideas can be expressed, debated, and challenged."
The university has also signaled its "automatic acquiescence to the 'heckler's veto,' which will embolden threats from those who oppose the very notion of free expression," the letter continued, demanding a response by Jan. 10. "Concerns for safety and security must be addressed in accordance with Canada's rule of law as a free and democratic society."
John Carpay, president of the center, pointed The Fix to its record dealing with free speech issues similar to the controversy at UBC. One of those cases involved the Vancouver Public Library's demand for a $2,400 security fee from a group that planned to host Canadian feminist Meghan Murphy a year ago.
The center said it successfully negotiated down the requested fee to less than half what the library demanded. The library "made no attempts to collect the fee in advance, and has not attempted to collect it since the event took place."
The Free Speech Club was less restrained than its lawyers. In a Facebook post Thursday, it said unequivocally that the club "will be taking legal action against UBC" and hopes to bring Ngo to campus for another event: "This is just the beginning. This is the time to fight." (Carpay told The Fix that it "may" file suit against the university if the event is not reinstated by Jan. 10, "subject to instructions from clients.")
MORE: Antifa threatens Candace Owens event at Penn
The Post Millennial, Ngo's publication, said the university did not appear to have asked the club to pay a security fee in order to allow the event to proceed. "The groups organizing protests have never, to public knowledge, been asked to pay security fees," it added.
Ngo responded to a Fix request for an interview but said the The Post Millennial article would answer questions. Asked how he's been greeted at colleges before this, he wrote in an email: "This was supposed to be my first university speaking event, so I have no other experience to compare it with."
Two nearby groups also publicly stated their intentions to stop Ngo from speaking at UBC.
"[T]his fascist piece of shit is gonna be at robson square on jan 29," Antifa Vancouver BC wrote on its Facebook page Dec. 23, apparently unaware that UBC had already canceled the event. "Bring Milkshakes!" it said, referring to the projectiles hurled at Ngo at the Antifa protest in Portland.
A screengrab from UBC's Students Against Bigotry Facebook page shows that the campus group "intend[s] to give Andy exactly as much attention as it takes to stop him, no more and no less."
The group claimed Monday that "some jokes about non-existent 'concrete milkshakes'" were being cited as evidence that Students Against Bigotry planned to use violence at the Ngo event. (The Portland Police Department initially said it had "received information" that some hurled milkshakes at the Antifa protest where Ngo was injured included quick-drying cement.)
In an updated Jan. 2 post pinned to the top of its Facebook page, Students Against Bigotry gave a "huge thanks to everyone who made clear to UBC the threat posed by Andy Ngo and the fascist groups he associates with and attracts." It will "continue to build community solidarity to stand up to these threats ourselves!"
MORE: My parents fled Vietnam. I'm lucky to have been raised in America.
IMAGES: Heritage Foundation/YouTube, Santa J. Ono/Twitter
Like The College Fix on Facebook / Follow us on Twitter