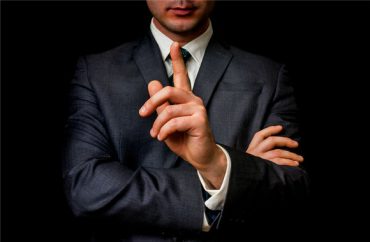 Told her to do another two years of coursework
A female college graduate claims her degree was rescinded after refusing to file sexual misconduct claims against the former university president, who resigned following a series of scandals.
The State University of New York Polytechnic Institute's decision came 19 months after Patrizia Burinska graduated summa cum laude, when an "anonymous complaint" caused the school's registrar to audit her degree plan.
Burinska filed a federal lawsuit earlier this month claiming violations of due process and freedom of association, as well as breach of contract claims.
She was notified of her degree revocation in a 2018 meeting, where she claims that school officials pressured her to disclose information regarding an alleged relationship with Alain Kaloyeros and file a sexual harassment complaint against him.
Burinska claims that she was not given the opportunity to appeal the "invalidation and revocation" of her degree at the meeting or at a later date, and was instead told that she would have to complete two more years of coursework.
She does not provide an alleged rationale for university officials to target her, but notes that an attorney for the university allegedly told her lawyer that "victims cooperate."
"The allegations in this complaint focus primarily on a Bachelor of Science Degree awarded to the Plaintiff," Steve Ference, director of university communications at SUNY Poly, told The College Fix in an email. He didn't address her allegations.
"An internal review revealed that the Plaintiff's course work did not me[e]t the requirements for the Nanoscience program and the degree was revoked purely based on her failing to meet 65 credits worth of academic obligations," he said. "We consistently work to ensure SUNY Poly awards high quality degrees based on a rigorous academic experience to enable success for our graduates."
Refused to give her supposedly damning audit report
Burinska began her studies in fall 2012 at the University of Albany's Colleges of Nanoscale Science and Engineering. They merged with what was then known as the SUNY Institute of Technology, which awarded Burinska her undergraduate degree.
She was unhappy with her first-semester GPA at UAlbany and met with Kaloyeros to discuss shifting her major and degree plan to better suit her interests. At the time he was senior vice president of the CNSE and professor of nanoscience.
Burinska performed better academically the following semester, and earned a 4.0 GPA in spring 2014 even as she expanded her major to include "entrepreneurship." The interdisciplinary option was approved by school advisors, who encouraged her to transfer to the newly founded SUNY Poly in her last semester, the suit claims. The school conferred her degree in May 2016, a little over a year after Kaloyeros took the reins.
Five months later, Kaloyeros resigned after being involved in a bid-rigging case that included other high-profile New York defendants. He was found guilty of taking part in the corruption scandal.
Rhonda Haines, the university's top human-resources official, lured Burinska back to campus under false pretenses in January 2018, six months before a jury convicted Kaloyeros, according to the suit.
Haines requested a meeting for an "Academic Matter," telling Burinska it was related to her academics and that there was nothing for her to prepare. Instead, Haines and Title IX Coordinator Katie Tynan-Simon gave her a letter that stated her degree was "invalidated and revoked" due to an "anonymous complaint," which led to an audit of her coursework.
MORE: Female student says USC threatened her for not accusing boyfriend
They refused to give Burinska a copy of the audit report that allegedly found she had not met minimum degree requirements.
Burinska was also grilled about whether Kaloyeros had sexually harassed her or whether they had been in a relationship. The officials handed her a folder on reporting discrimination and Title IX complaints, and "encouraged" her to "disclose the nature of her alleged relationship with Dr. Kaloyeros."
Also at the meeting, Haines claimed to know that the graduate and former president "had a relationship" and that Burinska got her degree because of that relationship.
The lawsuit says the university didn't tell Burinska that she could be "heard, contest, appeal, or grieve" the university's action, nor was she advised of "any specifics regarding the alleged coursework deficiencies."
She left the January meeting with the officials "humiliated and stripped of her degree without warning, and through no fault of her own." She also felt "targeted and set-up" by SUNY Poly, interim President Grace Wang, Haines, Tynan-Simon and unknown state defendants, in order to obtain information regarding her alleged relationship with Kaloyeros, which included "isolating and pressuring" her.
Can't be 'victimized because victims cooperate'
Burinska then reached out to an attorney, Susan Hoffinger, who met with the university's associate counsel, Mark Lemire.
According to Hoffinger's recap, Lemire said that Burinska did not "qualify for any degree" and would have to complete additional coursework to receive one. She was not being "victimized because victims cooperate," according to Lemire, and Burinska was not cooperating.
The university's explanation for her revoked degree falls flat because it never offered her the opportunity to "explain and substantiate her program" and other qualifications that had previously been approved by faculty and advisers, the suit says.
Burinska met with UAlbany advisor John Donoghue two weeks after her meeting with Haines and Tynan-Simon. Donoghue allegedly said that her completed coursework "appeared to follow the program requirements" but would need to be researched more because of the merger that created SUNY Poly.
The university violated her "contract, constitutional, and civil rights" under federal and state constitutions by revoking her degree, according to the suit. It seeks declaratory and injunctive relief, monetary damages, and reinstating of her degree.
SUNY Poly's "continuing vulgar typifications regarding the nature" of Burinska's alleged relationship with Kaloyeros, and "continuing pressure to file a complaint against him," suggests its actions are motivated by bad faith. Its motives were "politically related" to Kaloyeros and unrelated to legitimate academic concerns.
Under New York law, "an implied contract" is formed when a student is accepted by a  university, and it must award a degree as long as a student meets the requirements. Since Burinska completed her coursework and worked with advisors to ensure she was doing it correctly, SUNY Poly is contractually obliged to award her a bachelor of science degree, she claims.
The former student argues she had the constitutional right "to form and build meaningful and appropriate academic and personal relationships with university officials," including with Kaloyeros, who advised her. Due process requires the "timely and adequate notice" detailing the reason for revoking her degree, as well as an opportunity to "challenge the invalidation and revocation," she argues.
MORE: Colorado State ignores athlete's sexual partner who says he didn't rape her
IMAGE: NOBUHIRO ASADA/Shutterstock
Like The College Fix on Facebook / Follow us on Twitter