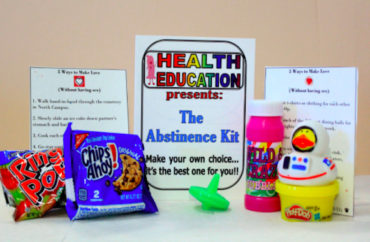 Abstinence kits contained rubber duckies, Play-Doh
Until recently, the University of Connecticut's Student Health & Wellness Center offered students an "abstinence kit" as an alternative to sex-based packages full of condoms and lubricants.
When questioned about the kits, however, the school responded that it no longer offered them—and then purged the wellness website of both the kits and many of its sexuality resources.
Responding to a question about the abstinence kits , campus spokeswoman Stephanie Reitz told The College Fix that the university health center "reviewed its programs and offerings during the last academic year, changing some and discontinuing others. This initiative ended at that time, and UConn no longer offers these kits."
Shortly thereafter, The Fix discovered multiple scrubbed pages on the health center's website.
The "safer sex supplies" page on the health center's website, which previously advertised the abstinence kits as well as sexual "goodie bags," now declares that the page "can't be found." Other pages, such as that advertising the university's "latex league" and that which had displayed a "Safer Sex 101" signup, have both been removed, though The Fix was also able to preserve those pages with screenshots.
The Fix wrote back to inquire about the scrubbed pages. "We continually look at each program and initiative in all areas of our department to determine if they complement our mission, and which should be enhanced or perhaps phased out," Reitz responded.
"Although the abstinence kits are no longer offered, UConn SHW continues to support a nationally recognized peer-to-peer education group, and assists students with an online map guiding them to locations where they can get safer sex supplies," Reitz continued.
"Our work in sexual health is one piece of a larger effort to focus on topics that college students say are most meaningful to them, including  nutrition, sleep, physical activity, alcohol and other drugs, and stress management," she added.
A photo of the abstinence kit shows that it contained items such as Chips Ahoy cookies, Ring Pop lollipops, spinning tops, Play-Doh, rubber duckies and bubbles, as well as an instructional sheet titled "5 ways to make love (without having sex)."
The health center's Twitter account promoted the kits during the most recent academic year.
University of Maryland offers similar kits
The University of Maryland also offers an abstinence kit via its health center.
The kits are provided "with the goal to empower students to make informed decisions regarding their sexual wellbeing," the university told The College Fix. The university seeks to "encourage a responsible foundation upon which [students] can successfully build throughout their adult lives."
Each kit contains "materials educating students on comprehensive abstinence practices and common misconceptions." They are "provided to thousands of students campus-wide during campus peer education events."
The school said the kits were launched with a grant from the Maryland Parents Association in 2012.
While the university also offers "safer sex" kits, contraceptives, STI testing and HIV preventative drugs, the abstinence kits are intended to "support students who chose [sic] abstinence." The university explained to the The Fix that nearly a third of college students "report zero sexual partners."
The Centers for Disease Control and Prevention maintain that "the surest way to avoid STDs is to not have sex," though the federal agency does not say whether rubber duckies are a necessity to that end.
MORE: Harvard University hosts anal sex workshop
MORE: Lawsuit says Yale suspended male student because of condom accident
IMAGE: UConn Health Education Office – University of Connecticut
Like The College Fix on Facebook / Follow us on Twitter