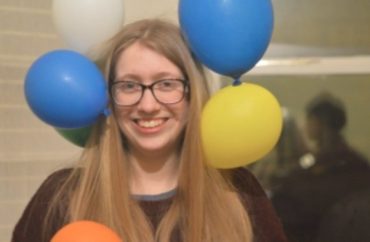 'Fitness to practice' investigation, ban on hospital placement
The University of Nottingham has settled with a midwifery student whom it tried to expel for her association with a campus pro-life group.
Julia Rynkiewicz got both an undisclosed payout and an apology 10 months after the university dropped its "fitness to practice" investigation, according to The Telegraph.
"Putting my life on hold because of an unjust investigation was really difficult, both mentally and emotionally," she said. "The settlement demonstrates that the university's treatment of me was wrong, and while I'm happy to move on, I hope this means that no other student will have to experience what I have."
The student (above) is now a year behind graduating because of the baseless proceeding, which also included a ban on completing her hospital placement, the newspaper reported in January when she first threatened legal action. (It's not clear whether she actually filed suit: The Telegraph said Rynkiewicz could "carry her case through to the ombudsman and then on to court" if her complaint wasn't remedied.)
Her lecturers essentially accused her of malpractice for leading Nottingham Students for Life, which was denied recognition by the Students' Union before an earlier legal threat prompted its recognition in July 2019:
On September 23 last year, Ms Rynkiewicz attended a Freshers Fair to promote NSFL where one of her lecturers sees her stall, takes leaflets and then lodges a formal complaint to the Midwifery School.

Days later, the student received a letter saying that a concern had been raised about her professional behaviour and she was to be suspended from her placement.

Ms Rynkiewicz was alleged to have provided reproductive health advice without the support of a registered midwife and have expressed personal beliefs regarding reproductive sexual health in the public domain (including the press and social media) to the effect that it may create the perception of an impact on patient care.
The university brushed off the damage it caused the student in January, when it finally ended the fraudulent four-month investigation, claiming it takes "fitness to practice considerations extremely seriously" and it would "carefully consider[]" her complaint.
Its apology last week couldn't resist promoting abortion-rights language, even as it claimed the university provides "spaces to debate, discuss and disagree points of view."
Not just the Students' Union but the university itself "supports the rights of all students to bodily autonomy [except preborn human beings] and access to safe, legal abortion services, which is the position in law."
h/t LifeNews
MORE: Groups ask SCOTUS to protect pro-life students from 'professional' witch hunts
IMAGE: UoN Catholic Society/Facebook
Like The College Fix on Facebook / Follow us on Twitter