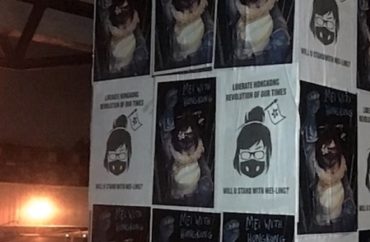 File a complaint if you want, spokesperson says
The administration of Massey University does not have authority to remove posters from areas controlled by the student government.
When staff at the New Zealand university came across posters supporting the ongoing pro-democracy protests in Hong Kong, it tore them down everywhere – including student government-controlled areas.
New Zealand media outlet Stuff reports that the administration is under fire for its indiscriminate removal of posters placed on advertising columns Thursday night.
Authorized for posting by the student government, they were put up by students from Hong Kong who wanted to "raise awareness for the turmoil unfolding in their homeland" at the hands of the Chinese government:
They said they had intentionally made posters that did not depict graphic violence. However, one of the three designs is an illustration of a police officer shooting a protester, beneath the words "HK police murder".
MORE: University approved anti-Hong Kong protest posters
"We were really careful to choose one with a video game character saying, 'Support Hong Kong'," said one of the students. "They've suppressed our thoughts and suppressed the information from getting to other people.

"I don't understand what the complaints are about."
While an administration spokesperson explained that posters were removed "following complaints from staff and students," he didn't have an explanation for why it removed them from the Massey University Students' Association zone in addition to the administration's own area.
Communications Director James Gardiner simply said that the Hong Kong students could "lodge a complaint" about the administration's unauthorized removal of their posters from the MUSA area.
MUSA President Michael Salmon protested that the administration didn't consult the student government before removing the posters from its own property.
Read the article, which includes a video interview with the anonymous students.
MORE: Hong Kong students face harassment in U.S. over China conflict
MORE: Student govt. boots Chinese student group for anti-Uyghur activism
IMAGE: Stuff.co.nz screenshot
Like The College Fix on Facebook / Follow us on Twitter