Without a boost, female students might not make the cut
The University of Akron has put its foot down against a professor who planned to raise the grades of female students so they would stay in his field of information sciences.
After The College Fix quoted an email to students from Liping Liu, an administrator told The Fix that the business and management professor's gender-based approach was "unacceptable" and that no grades have been artificially raised.
Liu admitted to The Fix that his plan could be "questionable," but said he wanted to "test the water" to see if this approach could "attract female students into future classes" and help correct chronic gender imbalances in his field.
Screenshots of Liu's redacted email to a student in his systems analysis and design class were posted on Reddit Monday night (below).
The professor informed students that he had sent their final grades to the registrar, and that three "categories" of students "may see their grade raised one level or two."
Females would get grade raises as part of a "national movement to encourage female students to go [in]to information sciences." Others who would get an artificial boost: students whose exam scores showed "higher performance than their calculated ones" and students who attended but "missed reporting attendance."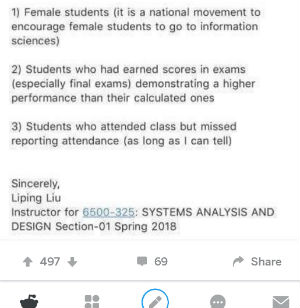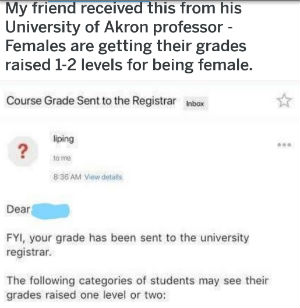 Liu's own classes have "one or two female students" on average in a class of 20 to 30, and they are "not doing well," he told The Fix in an email. These women will probably have to "repeat the courses or leave the program" without a grade boost.
The planned grade boosts were part of his own "experiments to understand the attitudinal and motivational factors of female students that explain their success and failures," Liu said.
Since he floated the idea, Liu (below) said he had received "three other emails" in addition to the query from The Fix. "Apparently there are concerns from some individuals …  Unfortunately, yesterday's experiment could not carry through," so he's abandoning the idea "for now."
While Liu's email to students suggested that boosting female grades is an idea in wide circulation in his field, he didn't point to any specific source where this approach was recommended or put into explicit practice.
"Gender imbalance is a concern in the IT field," he told The Fix:
Tech companies like Google, Facebook, Apple, Microsoft etc. have only about 10-15% of females in their engineering teams, and over 50% of them will leave the profession over time. These companies desperately need to hire more females from our schools to refill the workforce, yet our universities are not getting many girls interested in the programs.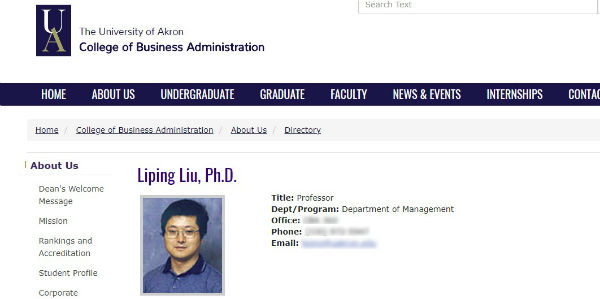 Asked to describe the "national movement" mentioned in his email to students, Liu said it was a "conglomerate of discussions, initiatives, and cals for action to address gender imbalance issue in the IT field."
He referred to Facebook's "Annual Leadership Day for female employees around the world" and to Google's training program for "women to establish links with men in coding." Liu said he was also following a plan of action by Microsoft to close the gap between men and women in STEM and IT fields.
This plan involves providing encouragement, developing a "growth mindset," and allowing female students to participate in hands-on work in STEM and IT fields to encourage their interest and involvement in the programs.
The Microsoft plan (below) implicitly discourages giving girls an academic boost, however.
It says "the solution doesn't necessarily require a curricula overhaul," but rather making classrooms "a safe place for questions and vulnerability." Because girls often feel more embarrassed to ask questions when they don't understand the material, teachers should reward effort to learn rather than knowing the answer right away, the plan says.
The administration was quick to see that Liu's planned practice could land the public university in legal trouble.
"The University has verified that there were no adjustments to grades based upon the gender of individuals in the class," Provost Rex Ramsier (below) confirmed in an email to The Fix.
"While the professor's stated intention of encouraging female students to go into the information sciences field may be laudable, his approach as described in his email was clearly unacceptable," Ramsier said.
He continued that the University of Akron "follows both the law and its policies and does not discriminate on the basis of sex," and that Liu "has been advised accordingly, and he has reaffirmed his commitment to adhering to these strict standards."
Ravi Krovi, dean of the College of Business Administration, did not respond to email inquiries from The Fix. University media relations did not comment except to refer The Fix to Ramsier's statement.
MORE: Professor doled out good grades for charity donations
IMAGES: Kues/Shutterstock, Reddit, University of Akron, Microsoft
Like The College Fix on Facebook / Follow us on Twitter