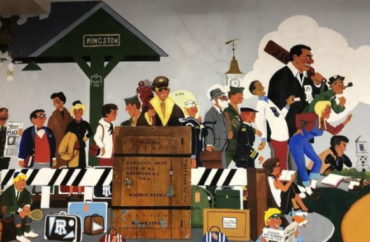 Students didn't 'feel comfortable' sitting near the murals, administrator said
The University of Rhode Island recently announced plans to remove two murals depicting World War II veterans because it lacks "diversity and a sensitivity to today's complex and painful problems," according to the university.
Kathy Collins, vice president of student affairs, told CBS 12 she received complaints because the two folk-art murals portraying life in the GI Bill era of the 1950s "portray a very homogeneous population" and that most of the people depicted in the murals are "predominantly white."
Collins also told the CBS news affiliate that some students told the school they "didn't feel comfortable sitting in that space."
She cited the controversial deaths and shootings of black Americans such as George Floyd and Jacob Blake as part of her decision:
I think we have to recognize the horrible incidents and the tragic murders of George Floyd, Breonna Taylor, and most recently Jacob Blake in Kenosha Wisconsin during this is heightened time and we as an institution have to look at the systems in place across this institution that maybe are not representing who we are today and representing the true diversity of URI today.
The public university announced the plans to cover up and replace the murals in the school's Memorial Union in a September 3 news release. The murals are currently covered up and the school said it wants the paintings replaced before classes start. The student union is currently undergoing renovations.
At the request of the university, Arthur Sherman, a World War II veteran and alumnus of the university, painted the murals depicting students socializing and traveling to campus in 1953.
MORE: University of Oregon to cover up controversial murals in library
Student veterans raised the money to create the Memorial Union to honor the military service of students. Sherman also taught at the university, according to the school's statement.
Sherman's family is split on the murals. The now 95-year-old Arthur Sherman told CBS 12 that "[t]ime goes by and things change" when asked about the removal.
Pamela Sherman, his daughter, told CBS that university officials could preserve history while adding other artwork.
Sherman said the murals give URI an "opportunity for them to capture a moment in time in their history" and said the school should "maintain the timeline of that history over the many generations."
"It's an opportunity for the University of Rhode Island to embrace its history, it's an opportunity for it to show a timeline, a progression and a change over decades and we never want to forget our past."
More recently, there's talk of preserving the murals in some way. The Providence Journal reports that the university is still exploring ways to relocate the murals.
The school said in its original announcement that the construction of the walls and murals "does not permit removal without damage to the murals and to the walls."
MORE: Bellevue college leadership resigns after mural controversy
IMAGE: Pat Sherman/ newportri.com
Like The College Fix on Facebook / Follow us on Twitter