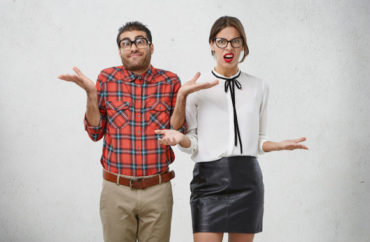 Maybe you should tell them to stop making race-based judgments altogether
One of the darkly amusing trends of our illiberal shaming era is that whites seem to have become more "woke" than nonwhites.
Perhaps the leading arbiter of wokeness in America is an elderly white woman, Robin DiAngelo, whom the University of Connecticut is paying $20,000 just to race-shame administrators for 210 minutes.
This constant stream of self-assured pronouncements by woke whites must be awfully tiring to nonwhites who aren't asking for perpetual apologies for whiteness. Certainly some of the latter are complaining to college administrators about the former.
Miami University in Ohio's freshmen orientation even has a tutorial that tells white students to lay off their wokeness – but only when they are lecturing nonwhites.
A parent of a student at the public university sent The College Fix a slide from an online workshop titled "Power, Privilege, and Oppression." It gives a scenario where a woke white student grills an American Indian student about whether her necklace is really authentic or just came from a chain store.
The workshop asks students whether the white student is providing "helpful information." The first two options applaud the white student to various degrees: for "demonstrating his cultural sensitivity" (such an ally to indigenous artists!) or correctly identifying a "knockoff," using his "Native American Studies major."
The third option is the commonsense choice – he's "being condescending and could lose his friend's trust." Strangely, the university deems the third option correct – but only if your friend is nonwhite!
MORE: Free speech groups launch freshmen orientation program for universities
White students at Miami University of Ohio have "privilege," and they must first evaluate whether their friends are "marginalized" (e.g., nonwhite and in some contexts also non-Asian). "When someone with privilege assumes expertise and explains oppression [chain stores?] to a marginalized person, it's condescending":
Whitesplaining is a form of racism. Taylor is also judging Kai's choices without seeking or valuing her viewpoint. A better approach would be to stop after the compliment, and avoid unsolicited advice.
A better approach for this taxpayer-funded institution is to encourage students not to shame their peers for different cultural tastes, rather than instruct them to evaluate a person's race and subjective marginalization in every conversation, less they 'splain something to someone with a different melanin level.
In keeping with its Title VI obligations, Miami should not be singling out white students for any particular obligations. The statute explicitly bars discrimination against people "on the ground of race, color, or national origin" in federally funded programs, including nearly every college in America.
White students presented with this white-shaming tutorial would also have grounds to report a complaint to the university's own bias response system, regardless of whether Miami requires its completion in order for students to enroll.
Don't count on the bias apparatus to pay heed to white students objecting to their own marginalization by a government entity, though.
MORE: George Mason freshmen orientation includes 'Sexual Chocolate' event
IMAGE: WAYHOME studio / Shutterstock.com
Like The College Fix on Facebook / Follow us on Twitter