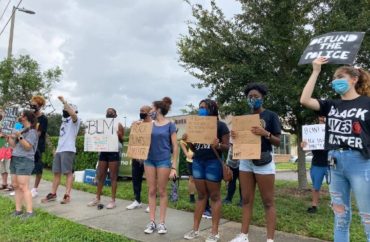 Also said random COVID tests violate Fourth Amendment
A free-speech group has repeatedly warned the University of South Florida about the unfairness and unconstitutionality of its coronavirus guidelines.
The Southeastern Legal Foundation has now sent three letters to the public university in Florida, warning it about problems with both its approaches to student gatherings and coronavirus tracking and reporting.
The university does allow sports teams to practice, but told student organizations they could not meet.
Its concerns about vagueness of the policies that were first raised in its August 26 first letter came true when the university allowed the campus chapter of Students for a Democratic Society to host an off-campus protest on August 28 against racism and in support of Jacob Blake, who was shot by a Kenosha, Wisconsin police officer on August 23. Blake's shooting has become a focus of Black Lives Matter activism.
It sent another letter to USF on September 15. On September 17, the university counsel responded to the two letters and dismissed the concerns.
University officials "developed guidelines to be applied in a fair and equitable fashion," wrote Joanne Adamchak, the school's counsel said in a letter.
She said the "existing use of space policies were developed as viewpoint neutral" and student organization guidelines "will be applied equitably and in the interest of the health of the university community."
Kim Hermann, the attorney for the legal nonprofit, challenged the counsel's assertion of an equitable policy in a September 18 response letter. Hermann said that "some student organizations were allowed to gather in protest while others have not been able to host socially distanced meetings."
The group also said the school "continues to refuse to allow groups such as Young Americans for Liberty or Turning Point to hold in person meetings," in a September 15 blog post.
MORE: Brown U. epidemiologist finds zero COVID hospitalizations from 26,000 cases
Hermann posed a series of 18 hypotheticals to Adamchak, asking her about how situations such as off-campus protests and off-campus volunteering would be treated.
The university did not develop fair guidelines, Hermann told The College Fix.
"USF admin allowed and encouraged students to violate COVID restrictions for BLM protests but won't let other student organizations meet," Hermann said via email to The Fix.
The nonprofit legal group sent a third letter on September 18, after receiving an unsatisfactory response to its first two letters.
It has not heard back any further from the school.
In another twist, the university allowed an outside group, gun-rights activist Kaitlin Bennett and her security team, to appear on campus on October 7 after she sought permission from the school, according to campus paper The Oracle.
Multiple students were assaulted by BLM protesters at the University of Southern Florida for supporting @realDonaldTrump, and some needed a police escort. This is the state of leftism on college campuses and why we should #DefundPublicEducation!https://t.co/GPkJmPQwgf pic.twitter.com/zpPSX7qcw2

— Kaitlin Bennett (@KaitMarieox) October 9, 2020
"USF's campuses remain open to visitors from the public and the university values the right for individuals to exercise free speech," said university spokesperson Adam Freeman.
Freeman had previously referred The Fix via email to the September 17 letter it sent to Southeastern Legal and said "USF has not sent any additional correspondence."
Freeman did not respond to a follow-up question on the discrepancy between the school's guidelines and the Black Lives Matter protest.
He told The Fix via email that students will not "face sanctions for choosing to participate in an interview with Kaitlin Bennett or for participating in a protest of her appearance on campus on October 7."
The vagueness of school policies remain a concern for Southeastern Legal.
It challenged USF on its policies. The legal nonprofit argued they could silence free-speech and violate civil liberties. It asked the university to clarify its referral form, which encourages students to report their peers when they suspect they might be sick.
It's a policy that Southeastern Legal regularly targets, including successfully at the University of North Georgia.
Not only has the university discriminated on viewpoint, they have also developed policies regarding COVID-19, according to Hermann, that possibly violates the Fourth Amendment, the right to privacy.
Random COVID tests are "a direct infringement on students' Fourth Amendment rights against unreasonable searches and seizures," Hermann wrote in the August 26 letter. She noted that the school "warns that if a student refuses, he could face discipline or forced quarantine."
"SLF will monitor the situation to make sure that USF does not cherry pick who it enforces its gathering ban against," Hermann told The Fix. The legal group will ensure the university does not "weaponize its COVID-19 policies to silence conservative and libertarian students on campus," Hermann said.
The legal nonprofit stated it hopes litigation is not necessary.
MORE: Free speech group warns university after it banned gatherings, except for BLM protest
IMAGE: Southeastern Legal Foundation
Like The College Fix on Facebook / Follow us on Twitter