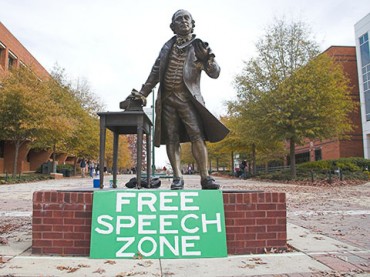 Rather than continue explaining why the U.S. Constitution is so offensive that students can't pass it out in most public areas on campus, the University of Hawaii-Hilo settled a lawsuit brought by students with the help of the Foundation for Individual Rights in Education.
As The College Fix previously reported, the school adopted an interim policy that suspended the anti-speech measures after the lawsuit was filed this spring.
To recap, according to FIRE:
Students Merritt Burch and Anthony Vizzone sued UH after one administrator stopped Burch from passing out copies of the U.S. Constitution and another told both of them to restrict their protest against National Security Agency (NSA) spying to a tiny, flood-prone "free speech zone." …

As part of the settlement, UH has revised its speech policies system-wide to allow free speech and the distribution of literature in "all areas generally available to students and the community" without requiring that students seek permission first. UH has also agreed to pay $50,000 in attorneys' fees and damages.
The school apparently panicked when prominent First Amendment lawyer Bob Corn-Revere got involved as part of FIRE's Stand Up For Speech litigation project, implementing the interim policy less than a month later.
Like The College Fix on Facebook / Follow us on Twitter
IMAGE: dcJohn/Flickr