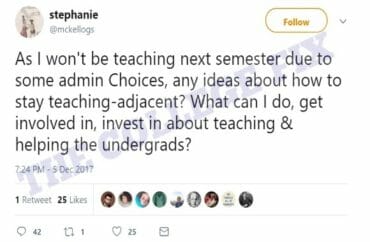 'Progressive stacking' instructor says the decision is not related to her use of the teaching method
A University of Pennsylvania teaching assistant who prompted national headlines and criticism after she tweeted in October that she only calls on white, male students as a last resort in class said Tuesday she won't be teaching next semester at the Ivy League institution.
Stephanie McKellop, a Ph.D student in history, said in a tweet that she won't be teaching anymore because of administrative decisions.
"As I won't be teaching next semester due to some admin Choices, any ideas about how to stay teaching-adjacent? What can I do, get involved in, invest in about teaching & helping the undergrads," McKellop said in her tweet.
In a later tweet, McKellop reiterated the choice was not hers. She told The College Fix that the decision stems not from her use of a controversial teaching method but rather is "a kindness extended to me by the university."
"It is part of a history PhD process to take comprehensive exams, and mine are coming up. That means I will become a PhD candidate, a promotion in my status," she said. "I've been asked to do research for my dissertation. Teaching will resume in the fall."
The University of Pennsylvania did not immediately respond to a request for comment.
On Wednesday afternoon, McKellop said on Twitter that she was preparing for her final classes and wanted "to cry" because she wants to do whatever she can to help her students be successful.
"Basically going to beg the students to come see me and use me as an instructor and pick my brain and ask for help and to let me be an aid for them," she said.
McKellop faced criticism and garnered widespread media coverage earlier this semester after admitting to using a controversial teaching technique known as the "progressive stack," a method that gives speaking priority to minority students and women first while those considered having more privilege are required to wait their turn.
"I will always call on my black women students first. Other [people of color] get second tier priority. [White women] come next. And, if I have to, white men," the teaching assistant tweeted October 16.
Following McKellop's tweet, the University of Pennsylvania said it was investigating the situation but that the teaching assistant had "not been removed from the program."
"We are looking into the current matter involving a graduate-student teaching assistant to ensure that our students were not subjected to discriminatory practices in the classroom and to ensure that all of our students feel heard and equally engaged," Steve Fluharty, dean of the School of Arts and Sciences, said at the time.
McKellop's profile on the University of Pennsylvania website said she's teaching a course called "Sinners, Sex, and Slaves: Race and Sex in Early America" this semester. She taught courses on the American South last year.
Following her initial Oct. 16 tweet, McKellop said in subsequent tweets that the university prevented her from going to her course's lecture and canceled classes with her and she said her critics included Nazis.
"Because this involves calling on Black students more readily than white men, the white nationalists and Nazis were very upset," she said.
Meanwhile, some scholars rallied to her defense on social media and condoned her use of the progressive stack technique. A College Fix review of online documentation found that McKellop is hardly the first instructor to employ the technique in the classroom.
The review found that use of the progressive stack, which is lauded by advocates as amplifying oppressed voices and criticized by others as discriminatory, has been used in college classrooms for years, and has roots in liberal activism including Occupy Wall Street.
MORE: White, male students called on last in some classrooms
Like The College Fix on Facebook / Follow us on Twitter