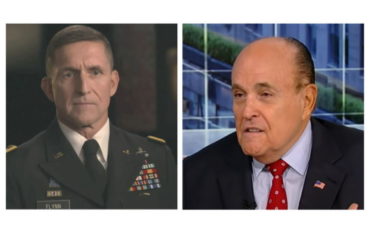 University of Rhode Island trustees recently voted to revoke honorary degrees given to Michael Flynn and Rudy Giuliani.
The Board of Trustees voted unanimously to strip the recognitions from the retired Army lieutenant general and former New York City mayor, the Providence Journal reports:
The trustees upheld the recommendations of the honorary degree committee, who voted last month and sent its recommendation to URI President Marc Parlange.

"After reviewing the recommendation from the president, who endorsed the committee's recommendation, the board voted to approve the revocation of these honorary degrees," said trustees chairwoman Margo Cook. "The Board of Trustees supports the university and its mission to uphold its values, especially its commitment to intellectual and ethical leadership and fostering an environment of diversity and respect."
The university honored Flynn in 2014 and Giuliani in 2003.
A January 17 letter from Parlange to the trustees stated the president agreed with the Honorary Degree Committee's recommendation to revoke the degrees "based on their findings that General Flynn and Mayor Giuliani no longer represent the highest level of our values and standards."
Regarding Giuliani, the letter stated in part the former mayor "has been suspended from practicing law in both Washington, D.C., and the State of New York over his unfounded claims of rampant fraud during the 2020 presidential election. The courts have determined that there is evidence that Mayor Giuliani has made false and misleading statements in representing President Trump and the Trump campaign in connection with Trump's failed re-election efforts."
Addressing Flynn, it stated in part that in "November 2021, during a rally in San Antonio, Texas, General Flynn called for the establishment of 'one religion' in the U.S. His behavior was widely condemned as violation of the doctrine of religious freedom enshrined in the first amendment of the U.S. Constitution."
Parlange stated that as "a civic institution, URI has the privilege and responsibility to sustain and preserve American democracy by inspiring and modeling good citizenship. Revoking these honorary degrees reinforces our values and allows us to lead with truth and integrity."
Flynn told the Gateway Pundit on Thursday the decision represents cancel culture.
"This will not change until we get them out of power," he said. "This is going to take a massive change at the very top of our government with leaders who are ready to take dramatic steps to change the culture of our education, media, and justice systems."
MORE: Check out The College Fix's Campus Cancel Culture Database
Like The College Fix on Facebook / Follow us on Twitter