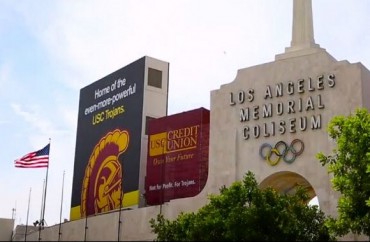 'We desperately need these emergency funds,' spokesman says
Although the University of Southern California has an endowment valued at $5.5 billion, the university received $19,278,560 in CARES Act funding.
The relief aid came at a time when President Donald Trump and Education Secretary Betsy DeVos* have criticized institutions with very large endowments for receiving the funding.
USC's endowment value is among the top 20 highest in the nation.
But a USC spokesperson told The College Fix the school will use the money exclusively for student aid. The act only requires that 50 percent, or $9,639,280 in USC's case, be awarded for emergency financial aid grants to students.
"USC is grateful for the funds we received from the CARES Act," Ron Mackovich, senior media relations specialist at USC, told The College Fix.
"As one of the largest private research universities in the country, we have 48,500 students — three quarters of whom receive financial assistance. Despite an endowment that is substantially smaller than that of our peers, we have one of the nation's largest financial aid pools, which exceeds $640 million," he said.
The CARES Act allocation amounts for campuses nationwide were based on a formula that factored in the number of students receiving Pell Grants at each school. Mackovich said 21 percent of USC's undergraduate population are Pell Grant recipients.
"We desperately need these emergency funds and will drive 100 percent of them toward supporting our students who are experiencing financial hardships," he told The Fix. "Our goal is to assist as many students and families as possible in meeting their financial demands during this disruptive time."
A number of universities with endowments valued at more than one billion dollars have declined the funding. Harvard University with an endowment of $40.9 billion was set to receive $8,655,748 in funding but declined the assistance after pressure from Trump and others.
Similarly, Yale University with an endowment of $30.31 billion turned down $6,851,139 in funding.
In a statement Wednesday, DeVos said wealthy colleges "do not need or deserve" taxpayer funds.
"Schools with large endowments should not apply for funds so more can be given to students who need support the most," she said. "It's also important for Congress to change the law to make sure no more taxpayer funds go to elite, wealthy institutions."
But USC is not the only university with an endowment valued at more than one billion dollars to accept the aid; Notre Dame, Cornell, Brown and Columbia are taking the funding.
In November, USC received one of the largest donations in higher education, $260 million from the Lord Foundation of California. University President Carol Folt said the funds will help support academic programs in the sciences as well as student financial aid.
USC might also be attempting to support its new "free tuition" program for students whose families make $80,000 or less annually.
MORE: Cornell, Brown and Columbia to accept COVID relief despite billion-dollar endowments
Like The College Fix on Facebook / Follow us on Twitter