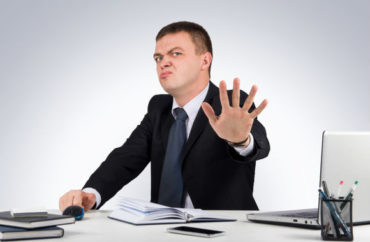 Because Ben Shapiro's appearance 'incited undue violence'
The regressive left is on the rise in not only the University of Southern California's administration, which has banned all spontaneous demonstrations, but also the student government.
A "bylaw amendment" introduced last week would give the Undergraduate Student Government de facto veto power over invited speakers they don't like, based on vague criteria.
Written by senator Meagan Lane and senate aide Adenike Makinde, the amendment was offered in response to last fall's visit by conservative pundit Ben Shapiro. The student government granted $4,100 to his host, the campus chapter of Young Americans for Freedom, and student activists claimed Shapiro was a threat to "the safety and lives of minority communities."
That's not speculation – it's the first item under "Justification for Amendment":
Ben Shapiro's campus appearance incited undue violence on the day of his presentation; student protest of his presence prior to the event had no official outlet for review
Forget for a moment what the student government might consider "due violence" (Nazi punching? Aborting "baby Hitler"?). Read the list of justifications for the amendment, and you'll see that these student leaders want to discriminate against unpopular causes and empower the heckler's veto.
They want an "intervention" process to review speakers who "pose a threat to individual students or recognized groups" – yet have already "been approved for campus attendance." Evidently "threat" has a nonstandard meaning for the sponsors.
They could also benefit from a refresher course in how to write intelligibly (just not led by this guy). Read this sentence a few times:
Ensuring clarity of approval procedures will allay fears that guests whose presence pose a detriment to a safe and cohesive campus climate may present their views without opposition
I think they mean that their proposed bylaw will fix the supposed problem of invited speakers not being disinvited ahead of time or shouted down at their events, by ensuring the student government can veto them.
But now we've left even the vague terrain of "threat." Simply existing in geographic space would be forbidden if someone – anyone – judges the speaker a "detriment to a safe and cohesive campus climate." Translation: Only approved opinions allowed.
MORE: USC students try to sabotage Shapiro event
#SOUNDTHEALARM, spread the word. pic.twitter.com/wiKNUxDxPN

— Black Trojan (@USCBSA) September 21, 2018
The bylaw proposal would work through the student government's funding mechanism, which is the only way most student groups can afford to bring speakers of any renown to campus.
It would create a new "Special Guest Approval" protocol for any invited speaker who meets any of several criteria: speaking at a "ticketed campus event, projected to draw attendance of 100 people or more, poses a threat to student safety, or requires substantial security detail."
Not only would all approved funding be "provisional" – making it more likely that big-name speakers won't agree to come in the first place – but even provisional approval would trigger a 10-day petition window for any student to challenge the funding before the student government.
What are the grounds for petition? Anyone who has "accepted endorsement" by an organization dubbed a hate group by the Southern Poverty Law Center (e.g., conservative Christian groups but also an Islam reform group). People who have publicly supported such groups, as well. (Guess Vice President Mike Pence is out.)
The last ground for petition – people who have "publicly incited, supported, or explicitly encouraged violence or harassment" – might be reasonable if the rest of the amendment narrowly defined terms such as "threat." Of course, it doesn't.
Even its definition of "evidence" that must be presented to oppose a speaker includes "malicious public conduct." What are they going to do, call out microaggressions in phrases such as "America is the land of opportunity"?
The only thing close to a real protection against majoritarian suppression of minority viewpoints is a two-thirds voting threshold that would be required to block funding for a speaker.
The university's YAF chapter called the proposal "a disservice to the USC community USG claims to represent. Such legislation denies to all students the access to intellectual diversity that is paramount to a well-rounded higher education."
It also called the proposal a "direct contradiction to the values of free speech as guaranteed under the First Amendment of the U.S. Constitution." USC is a private institution, yes, but it explicitly promises every community member "the rights of free speech, peaceful assembly and the right of petition."
It's not just YAF who thinks this proposal is a bad idea. Other opponents spoke at a student government meeting this week, the Daily Trojan reports:
"The moment you cross from a legislative duty into one of moral authority — to me that's a form of corruption," said Josh Masters, a senior majoring in animation and digital arts. "I don't want to see that happen at this school." Masters, who spoke in opposition to the amendment, is not a YAF member.
Other members of the student government were spared having to express a view on the amendment, which "was not discussed by senators since it was not budgeted for the meeting's agenda," according to the Daily.
h/t Daily Wire
MORE: USC orders students to get two weeks' advance permission to use free speech
IMAGE: Bashigo/Shutterstock
Like The College Fix on Facebook / Follow us on Twitter