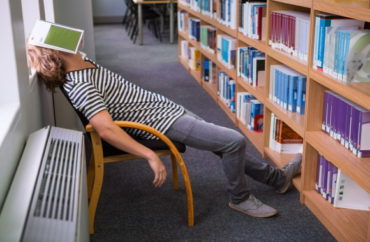 ANALYSIS: For would-be 'Healthyhorns' that don't know how to nap properly, UT Austin's got their back
Healthyhorns need to nap.
That is the message of the University of Texas at Austin's University Health Services' dedicated "Napping" page, which provides sleepyhorns with sage advice on the benefits of naps, as well as napping tips, and even an interactive "Healthyhorns Nap Map" to help longhorns find the "best napping spots on campus, as voted on by UT students!"
"College students are among the most sleep-deprived population. While it's important for students to aim for 7 to 9 hours of sleep per night, napping can be a good supplement during the day if you're feeling you need a boost!" reads the page. [Exclamation points in the original.]
The benefits of a good nap, as listed on the UT-Austin website, include "increased alertness and focus," "better mood" and  "improved memory and cognitive functioning."
Below the "Napping Tips" section of the page, there is also the aforementioned "Healthyhorns Nap Map," which serves as something of a brochure for the discerning napper, highlighting more than a dozen locations around campus, scored on key metrics such as accessibility, comfort, crowd activity and noise.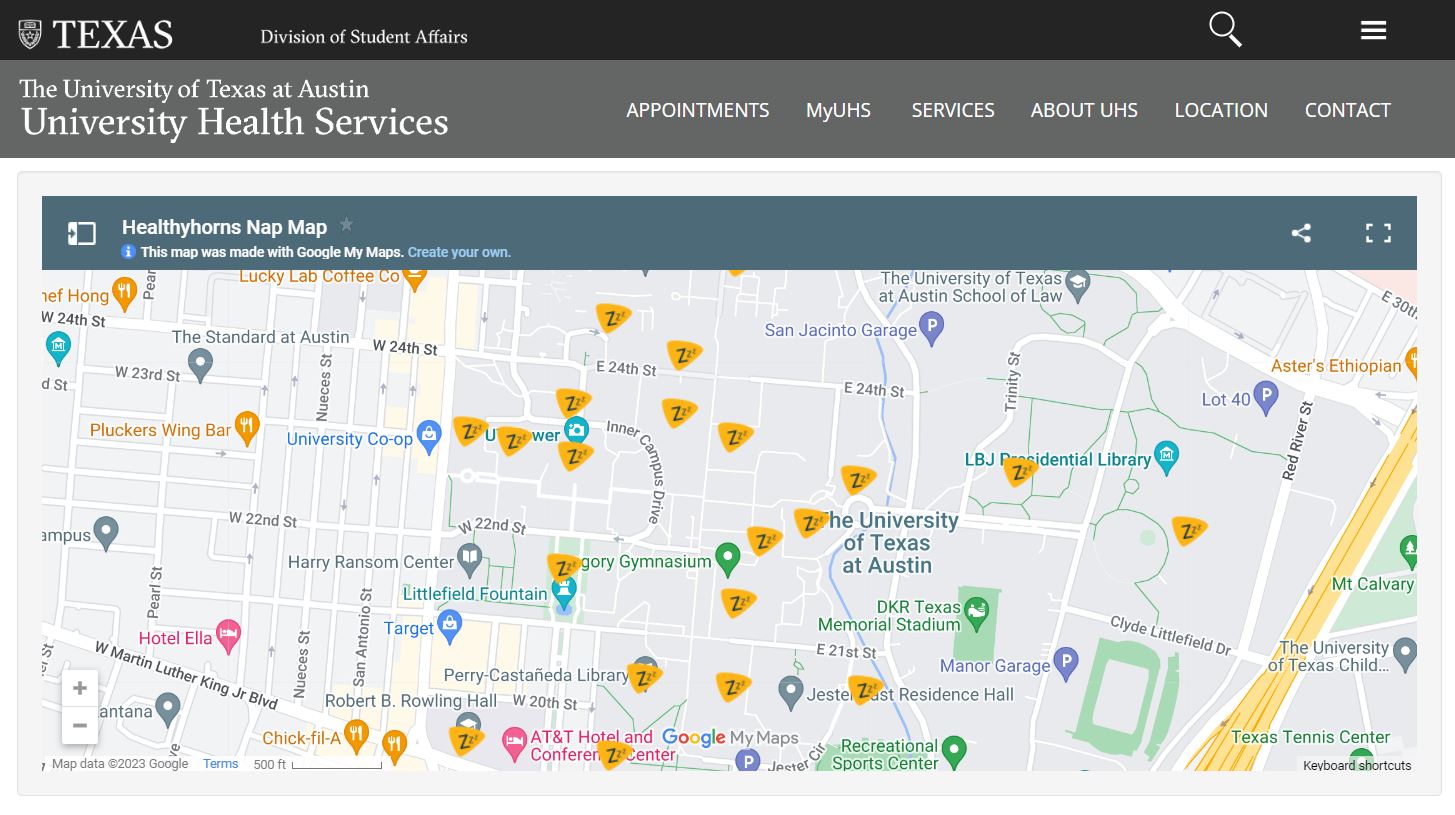 UT Austin's Life Science Library and Norman Hackerman Building are the Healthyhorns Nap Map's two highest rated locales, both earning 19 points out of 20.
"The Life Science Library is a great place for that sleep you are craving right this instant!" reads the description of this ideal napping destination. "Located in the most iconic part of UT, the second floor of the Tower is home to plenty of sofas and chairs for that nap of yours. The temperature is well-suited for a cool nap and the quiet ambiance of the library makes this nap spot one for the books!"
The Norman Hackerman Building is described as "not only known for its cool and contemporary architecture but also for its napping spots. The outer NHB patio is well known for its cool metal seating areas that can be moved into make-shift beds. These are especially comfortable on a sunny day when the shade has kept the seats cool! Not only is this place quiet and quite a good nap spot, but it is a good place to relax the mind."
However, for healthyhorns who wish to sleep outside, but without the trouble of constructing a make-shift bed, Turtle Pond – with a Nap Map rating of 17 – may be the place to fulfill their napping needs.
"Long day? Catch up on your ZZZs on this quaint lawn while also watching the UT turtles!" the page exclaims. "The lawn is well-shaded, plush with grass, and relatively low volume. Hang out, study, or take a nap in this secluded, charming location!"
Notably, unlike other locations that list specific hours, Turtle Pond's entry on the page simply says "OPEN," providing no indication that sleepyhorns couldn't get all seven to nine hours of their ZZZs there every night.
Yet, notably, not all napping destinations are created equal. Nay, they can't all provide the cool, quiet ambiance of the Life Science Building or the plush grass and happy terrapins of Turtle Pond.
The F. L. Winship Drama Building, for example, only earned a Nap Map rating of 11, despite attempts to promote it as something more than the lesser napping spot that it is.
"Lights! Camera! Sleep!" the page reads. "Follow the director's cue and head on over to WIN for a relaxing nap. Not only is it home to state-of-the-art theaters, but the drama building also has quiet corridors and lounge areas that are great for some well-deserved eye-resting."
Luckily for discerning longhorns though, the "Healthyhorns Nap Map" provides them with plenty of options.
Yet, for would-be healthyhorns that don't know how to nap properly, UT Austin's got their back.
Under a dedicated section of "Napping Tips," University Health Services provides such horns with the information they need to get the most out of nap time.
"Keep naps short and sweet," the page suggests. "A power nap of 20-30 minutes can renew attention span and refresh the body."
"Aim for early afternoon," it recommends. "Try napping between the hours of 1pm-4pm so it doesn't impact your ability to fall asleep at night."
"Schedule time for naps such as in between classes or mid-way through a study session," it adds.
"Stretch before and after your nap. It will help you feel better all day," it advises.
But, the page also warns would-be healthyhorns, "If you are napping somewhere other than your room, try use [sic] your backpack as a pillow and make sure nothing valuable is sitting out," before adding, "Wrapping your arms around your backpack can also be comfortable for a quick nap."
MORE: Harvard student argues campus needs nap pods
IMAGE: Wave Break Media
Like The College Fix on Facebook / Follow us on Twitter