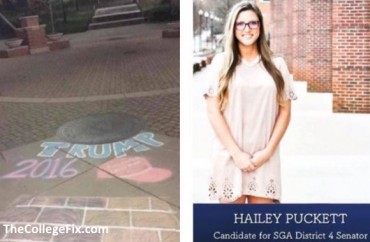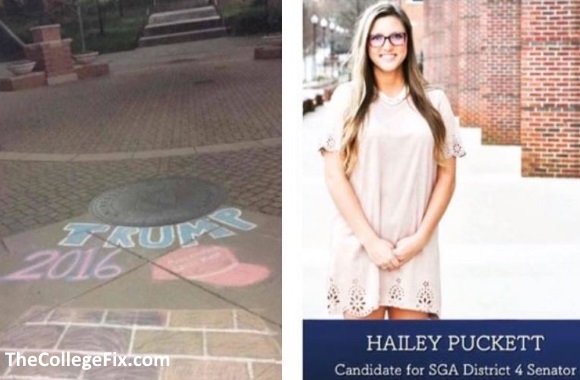 A student senator-elect at the University of Tennessee at Chattanooga has been asked to resign by members of her own campaign ticket for participating in drawing pro-Trump images in chalk on campus.
"Tonight we've asked for Hailey Puckett's resignation from SGA because we realize that her values do not line up with the pillars we've established ourselves on," states an early Wednesday announcement on social media from Empower UTC, the name for the slate of candidates whose members were recently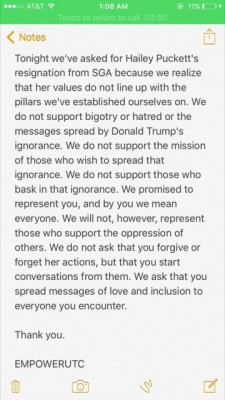 elected to lead the university's student government for the 2016-17 school year.
The resignation request came several hours after the pro-Trump chalk appeared on campus late Tuesday and images of it spread via social media, a UTC student told The College Fix.
Empower UTC ran on a platform that promised a "diverse representation of student opinion," according to its website.
As for asking for Puckett's resignation, the group's statement said: "We do not support bigotry or hatred or the messages spread by Donald Trump's ignorance. We do not support the mission of those who wish to spread that ignorance. … We will not … represent those who support the oppression of others."
As of late Wednesday, Puckett had not responded publicly to the resignation request.
Meanwhile, a photo of the public university's student government president-elect, Empower UTC's Phillip Stubblefield, was passed around on social media Wednesday showing him sitting behind Trump at a New Hampshire speech last year.
"We do not support the messages spread by Donald trump" as @EMPOWER_UTC president is in the background at a rally. pic.twitter.com/P2BxQnB5Fs

— Joe Bastow (@BastowJoe) April 6, 2016
As for the chalk drawing at UTC, it included the phrase "Make American Great Again" on a red hat and "Trump 2016″ complete with a brick wall image — all done near an emblem of the school's seal embedded in the quad.
Puckett participated in its creation, acknowledging as much in a social media photo that launched the backlash, a UTC student told The College Fix. Student activists then came by the same night and washed off the pro-Trump images and replaced it with their own messages stating "Black UTC supports unity" and the like.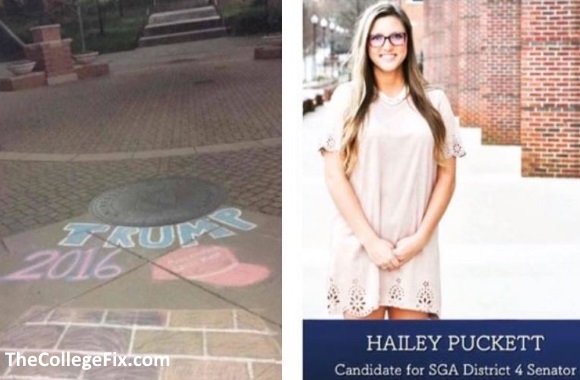 "It's just so racist, and I feel if you want your candidate to win, you don't have to publicize the negativity they stand for," student Camielle Smith told WDEF Channel 12 news.
"You can support Trump all you want, but as a student representative, if you're drawing a wall, that you could want some kind of decisiveness among campus," student Alese Taylor told the news station.
But not all students think Puckett should be forced to resign over her political statement. And in fact, roughly about 70 percent of the student body thinks the request is over the top, according to UTC student Tucker McClendon.
"I reached out to her and urged her not to resign," McClendon told The College Fix in a Wednesday telephone interview. "I don't think anyone should be reprimanded for who they support. … I even know Hillary and Bernie supporters who have said, 'This is stupid.'"
RELATED — #TheChalkening: Forum set to bemoan mean chalk, more cops called over easily erased Trump taunt
McClendon, who was involved with Students for Marco Rubio at UTC, said he would never vote for Trump, yet still he strongly believes others have the right to vocalize their support for the Republican frontrunner.
"The actions requested by this group is a restriction of freedom of speech," McClendon told Empower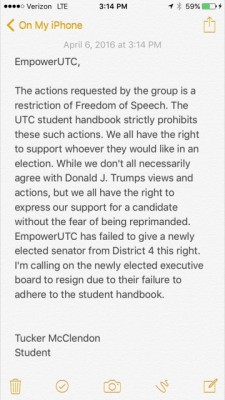 UTC in a statement on social media. He added they are violating the student handbook, which protects free speech, with their resignation request. "I am calling on the newly elected executive board to resign due to their failure to adhere to the student handbook."
In his interview, McClendon said Empower UTC was the "moderate" ticket, that there was another that was more left-leaning that was not voted in. He also said he believes the Empower UTC members were aware Puckett supported Trump during the student government election, and may have responded in this manner to due to peer pressure.
Chuck Cantrell, UTC's associate vice chancellor of marketing and communication, told the Times Free Press that campus officials are staying out of the debate, despite the fact that chalking without reservations is not allowed on campus.
"Clearly, we want our students to feel free to exercise freedom of expression, freedom of speech in a civil, respectful way, and that's really what we're hoping students will come around to," Cantrell told the Free Press. "We're hoping that our students will recognize this as a teachable moment."
RELATED: Trump Scare spreads from Emory to University of Kansas as new chalkings appear on campus
RELATED: Women's college student president alerts police to 'Trump 2016' drawing, calls it 'racist act'
Like The College Fix on Facebook / Follow us on Twitter