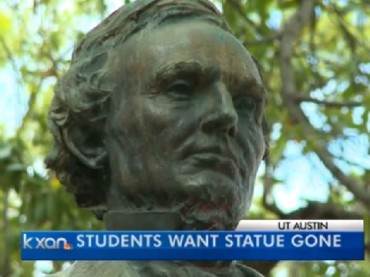 Student president: 'Jefferson Davis stood for some things that are pretty abominable today; Slavery, racism. They're just not in line with the university's core values'
The student government at the University of Texas has passed a resolution calling for the removal of a statue of Confederacy President Jefferson Davis from campus, saying the monument is a "racist symbol of slavery" that's offensive to many students and not in line with the school's "core values."
A campus spokesman said administrators will review the resolution, approved Tuesday, and possibly take action, the Austin-American Statesman reports.
The resolution was touted by two newly elected student leaders, Xavier Rotnofsky and Rohit Mandalapu, who edit the school's satirical campus paper and ran on a humorous platform that included disparaging themselves in campaign ads and promising to reduce the campus study centers' hours for more time to party, USA Today reports. 
(At right, Xavier Rotnofsky and Rohit Mandalapu / Facebook)
But part of their campaign pledge also included getting rid of the statue of the large, bronzed Davis, who served as president of the Confederate States during the Civil War from 1862 until 1865 and was later given a presidential pardon.
The statue – situated in a prominent place on campus – has reportedly been the target of controversy and consternation in recent years. A similar effort to remove the statue in 2010 stalled, according to the Gainesville Daily Register.
As a result of Tuesday's vote, the debate over the statue among the campus community has reignited.
"His legacy is not consistent with the university honor code," Ciaran Dean-Jones, a 22-year-old senior and co-author of the student government resolution calling for Davis' eviction, told the Gainesville Daily Register. "When a university erects a statue, we are saying that person embodies the values for which the university stands."
According to University of Texas officials, it was installed after World War I alongside a Woodrow Wilson statue to symbolize the
reuniting of the nation as one. Rotnofsky said he isn't buying the administration's position, telling KXAN news "the message of unity gets lost. If anything, the unity that's happening is the unity of students coming together in opposition to the Jefferson Davis statue. I suggest a statue of Rohit and myself, but that's just a suggestion."
"We just found it funny," he added. "A very racist man is still on a very prominent part of the university. Jefferson Davis stood for some things that are pretty abominable today; Slavery, racism. They're just not in line with the university's core values."
Rotnofsky told the Statesman that "statues are meant to glorify individuals and what they stood for and Jefferson Davis stood for some really abominable ideas that not only offend students but affected the groups many students identify with. It's a slap to their face."
Rohit has made similar statements, telling The Daily Texan campus newspaper "it goes without saying that [Davis'] legacy continues to affect us today. This statue serves as a permanent reminder of the atrocities committed against fellow humans."
Rotnofsky has offered a compromise, suggesting to the Texan that perhaps the statue could be placed in a museum.
But not everybody is against the Davis statue. In comments posted under some news stories on the issue, the student leaders have been accused of trying to "whitewash" history. Others have said they're embarrassed by the resolution's passage.
What's more, former Texas land commissioner Jerry Patterson told the Statesman that removing the statue does a disservice to history, and more statues of black historical heroes should be added to campus.
"I think the monument should stay because it provokes a lot of conversation and thought," he said. "The University of Texas is an institution of higher learning and isn't that what they're supposed to be doing?"
University of Texas freshman Michael Tatlovich agrees, telling KXAN news, "The statue, I'm sure, wasn't erected to celebrate the fact he was racist. I mean, I don't know. It doesn't bother me that it's there."
There are reportedly a total of four statues of Confederate figures at the University of Texas, including Confederate General Robert E. Lee. Other statues on campus include George Washington, Martin Luther King. Jr., and Woodrow Wilson.
College Fix reporter David Hookstead is a student at the University of Wisconsin-Madison.
Like The College Fix on Facebook / Follow us on Twitter
IMAGES: Main, KXAN; secondary, Facebook screenshot; bottom, Keith Ewing/Flickr