It's not enough for the Vassar College chapter of Students for Justice in Palestine to advocate for a boycott, divestment and sanctions (BDS) resolution against Israel in its student government.
The activists are also selling a T-shirt featuring terrorist plane hijacker Leila Khaled, and the profits go to "organizing Palestinian resistance," as the group wrote on Facebook yesterday (note the ironic peace sign).
The figure on the T-shirt was identified by Rebecca Lesses, associate professor at Ithaca College and coordinator of its Jewish studies program:
A fine hero for SJP at Vassar to have – an airplane hijacker who managed to avoid jail. Apparently the people in the two planes that she hijacked – TWA 840 and El Al 219 – don't matter to them. The terrorist, not the victims, is the one they laud. They don't appear to be able to imagine themselves as the terrified passengers, wondering what was going to happen to them when armed attackers take over their planes. No, what they like is "sweet fucking antiZionist gear."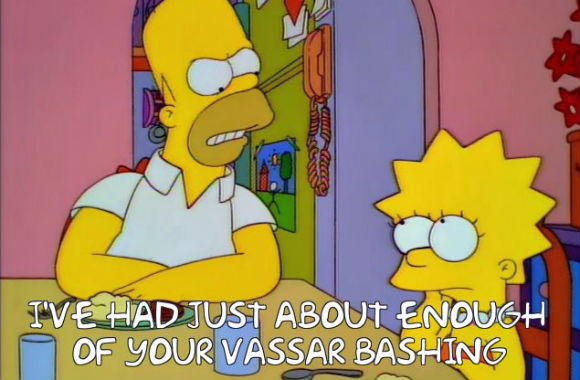 The group behind the T-shirts, Existence is Resistance, has a thing for guns and hip-hop.
As we noted in 2014, California taxpayers helped fund a trip for two San Francisco State University professors to visit Khaled on a "junket" to the Middle East.
Note SJP @vassar claim "100% profits go to Palestinian resistance" i.e. terrorism. @LegInsurrection @WarpedMirrorPMB pic.twitter.com/djm51fQ6mQ

— 19thAmendment (@XIXAmendment) February 12, 2016
Read SJP Vassar's Facebook page and Lesses' post.
h/t 19th Amendment via Legal Insurrection
RELATED: SFSU Profs Use Public Funds to Meet With Terrorists
Like The College Fix on Facebook / Follow us on Twitter
IMAGES: Shutterstock, Frinkiac