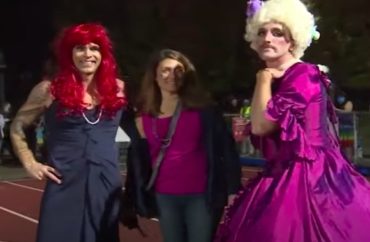 A public high school in Vermont did up a drag show for its homecoming football game's entertainment last weekend.
The Burlington High School event featured students and teachers, and included participants from neighboring South Burlington High.
According to the Associated Press, the field was transformed into a " 'drag ball' runway at halftime, with […] members parading in gowns, wigs and makeup — and a big crowd in rainbow colors to cheer them on."
The idea for the show originated with English teacher Andrew LeValley, also adviser to the school's Gender Sexuality Alliance. "Inspired by Lady Macbeth and Marie Antoinette," LeValley took part in the show donned in a "Shakespearean burgundy gown and a wig."
LeValley said he hoped the show gave students both "out" and "not out" an opportunity "to shine and feel loved."
One student interviewed about the event (above video) said "To include the LGBTQ community in a sport that has traditionally been very masculine … it's really good for us to be able to add a gender-bending aspect to that."
ALERT: Check out our new Campus Cancel Culture Database!
As school cheerleaders wrapped up their routine, about 30 students and faculty members dressed as drag queens and kings — or a bit of both — walked out onto the field and the crowd started to chant, "Drag Ball!"

Performers paraded and danced to show support for LGBTQ people. They also lip-synced to singer Todrick Hall's "Rainbow Reign." …

Athletic Director Quaron Pinckney suggested that the show be held at homecoming.

Pinckney, who is Black, said that the school gave him the space to "uplift my voice" and that he was able to reciprocate and "uplift the voices of another marginalized group and share a space in the athletics realm that doesn't normally get shared."
While in this case school officials were quite supportive of students' (and staff's) free expression, elsewhere more traditional expressions have not been met with the same passion.
Last month in Washington State, for instance, a high school canned a 9/11 tribute due to its possibly "offensive" nature. In Ohio last year, a pair of high school football players were suspended for carrying "Thin Blue Line" and "Thin Red Line" flags onto the field in recognition of 9/11. And in North Carolina, cheerleaders were disciplined for unfurling a "Trump 2020" / "Make America Great Again" banner.
MORE: Pennsylvania high school to host drag show during school hours
IMAGE: YouTube screencap
Like The College Fix on Facebook / Follow us on Twitter