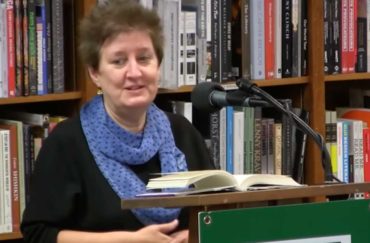 Katha Pollitt does not go easy on conservatives.
A longtime contributor to The Nation and other left-of-center publications, she has also lectured and taught at dozens of prestigious universities, including as a professor of women's studies at New School University in Manhattan.
So it was refreshing to see her byline in The Nation in an article making the case to liberals that cancel culture is not solely a right-wing invention. Even pious leftists are not shielded from attack.
Pollitt (pictured), began by "loosely," but helpfully, defining cancel culture as "a climate that encourages disproportionate social and/or work-related punishment for speech." Next, she ironically takes up the stance of her imagined liberal peers:
Cancel culture…doesn't exist. Well, OK, it exists on the right…Conservatives are always canceling people. But on the left? That's just people holding you accountable for some awful thing you said. What could be wrong with that? Besides, no one is seriously, irreparably hurt. Look at J.K. Rowling: Despite the best efforts of Twitter, she's still a billionaire and one of the most popular writers ever.

Those who argue that cancel culture is a myth claim that no one has really been injured by it. A few people might lose their jobs, but they get new ones. Bari Weiss claimed she was bullied out of The New York Times, and now she's the Queen of Substack…Yes, someone might lose a prize or an opportunity to give a talk or be on a panel, but no one has a right to those things.
She quotes journalist Adam Davidson as an exemplar of this liberal view, who wrote: "Can one of you believers in cancel culture just write one piece that gives evidence and doesn't just speak to a feeling you have? Maybe some data that helps your readers know the size and scale of this problem? Also, some examples of people actually fired?"
Well, funny you should ask. Pollitt, to her credit, rebuts Davidson and other liberal critics of cancel culture with evidence like that which The College Fix, among many other publications, has been mounting for years.
Yes, Pollitt writes, obviously all kinds of people are punished disproportionately in social and work-related ways for their speech, and many of them are targeted by paragons of liberal virtue.
In fact, she pointed out that "the Foundation for Individual Rights in Education has documented hundreds of cases across the political spectrum in academia alone—firings, demotions, lengthy investigations, and so on—which is more than enough to make others wary."
Pollitt goes on to catalog a "small sampling" of well-meaning thought criminals cast out by their liberal institutions.
Donald McNeil Jr., a science journalist "with a long career at the New York Times," said the "N-word" in response to a student who asked his opinion about another student's use of the word. The use/mention distinction upheld by linguist John McWhorter – who sanely reminded us of the difference between using a word as a slur and mentioning to analyze or criticize its use – apparently meant nothing to his critics. As Pollitt writes, McNeil is now "writing the occasional piece on Medium, where he recently described himself as retired."
Gillian Philip, a successful children's book writer, put #IstandwithJKRowling in her Twitter bio, for which she was fired by her publisher. Pollitt: "She now works as a truck driver."
Don Share, former editor of Poetry magazine, published a poem in 2020 by Matthew Dickman that included a racial slur "uttered by the poet's demented grandmother." Again, the use/mention distinction did not matter to the cancel culture mob. Share apologized and left. Pollitt stated she has "been unable to find out what he's doing now."
Gary Garrels, formerly the top curator at the San Francisco Museum of Modern Art, is now an "independent curator." He led efforts to boost the ethnic diversity of his artists but resigned in 2020 in disgrace after saying that it would be "reverse discrimination" to neglect work by white men.
David Edelstein, a longtime film critic with NPR, made a crude joke on his Facebook page about a sex scene in a movie and "is now a freelancer."
April Powers, former "equity and inclusion chief at the Society for Children's Book Writers and Editors," was castigated and resigned after she made a statement condemning antisemitism that did not acknowledge Islamophobia.
"She's trying to make a go of consulting now," Pollitt wrote.
"You can say these people—and there are many more like them—got what was coming to them," Pollitt stated.
"You can say it was a proxy for other problems in the institution: underpaid young staffers, overprivileged higher-ups, hidebound ideas and practices, racism. You can say these incidents are part of a general social transformation that will leave us better off in the long run, and that might even be true."
However, she wrote: "What you can't say is that no lasting, measurable damage was done to individuals. You can argue that the damage is worth it, but you should at least admit it's there."
If a lioness of the left such as Katha Pollitt can defend cancel culture in the pages of The Nation, how many honest liberals can continue to deny that it exists?
MORE: Independent-minded scholar provides linguistic sanity in an age of outrage
IMAGE: Politics and Prose/Youtube
Like The College Fix on Facebook / Follow us on Twitter