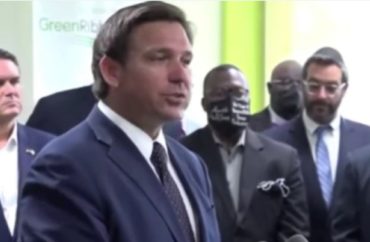 Don't put masks on kids
Florida Republican Governor Ron DeSantis recently told schools that he expects them to have a normal school year. He also told them not to try to force kids to wear masks in school, during a recent press conference after he signed school choice expansion legislation
"These kids do not need to be wearing these masks," DeSantis said. "We need to be able to let them be kids and let them act normally."
The governor urged school districts to "have a normal school year," during the press conference at a Jacksonville Catholic school.
DeSantis signed legislation at Christ the King school to expand school voucher access.
"Obviously, wealthy parents have the world as their oyster. They can make whatever decisions they want," the governor said, according to local station News 4 JAX.
"But when you talk about low-income families, working families — they may not have the luxury of being able to get their kid in the school of their choice without our assistance," DeSantis said.
He said that many of the charter schools had already had a normal school year for the past year.
The Republican governor has previously criticized the Centers for Disease Control and Prevention for pushing guidelines that would keep "90 percent" of schools closed. The CDC wanted to tie the reopening of schools to the community COVID rates.
However, several Ivy League public health professors had walked back their advice that this be the standard and had concluded, by the time the CDC made its announcement, that community rates and school transmission rates are not linked together.
MORE: Florida university reverse COVID vaccine mandate after DeSantis bans it
IMAGE: NBC 5 News/YouTube
Like The College Fix on Facebook / Follow us on Twitter