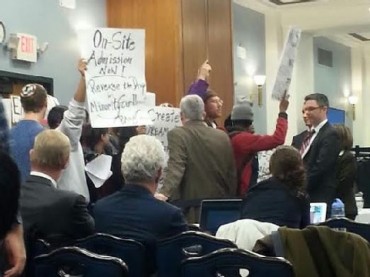 Campus radicals shout list of demands, pledge to disrupt meetings until demands met
An aggressive pack of protesters recently stormed a University of Michigan Board of Regents meeting, repeatedly screamed chants to drown out the meeting, got in a physical altercation with security guards that included pushing and shoving, and ultimately forced campus leaders to quickly leave the room under protection of campus security.
The two dozen protesters – some students, some local activists – were led by members of the radical community-based group By Any Means Necessary, or BAMN, who had planned the protest publicly for weeks. Referring to the Black Action Movement that famously shut down the University of Michigan in the spring of 1970 as inspiration, BAMN's efforts ultimately failed to shut down the campus but succeeded in taking over the meeting.
"We are holding the meeting today that is the real meeting, that is the meeting of the students," lead organizer student Kate Stenvig declared as students and other attendees who came to witness the regent's meeting began filing out of the room.
Their demands?
"Double Underrepresented Minority Student Enrollment."
"Jail Killer Cops."
"Make U of M a Sanctuary Campus – No Immigration & Customs Enforcement on Campus."
"We're going to keep shutting these meetings down and having our own meetings until these demands are met," Stenvig said.
The Nov. 20 coup took place five minutes into the start of the board meeting, as the 20 or so protesters drowned out Ann Arbor Mayor Christopher Taylor's remarks with well-rehearsed chants such as "we don't need another committee, open it up to Detroit city" and "Minority enrollment's been going down, open it up or we'll shut it down." At times they screamed the chants.
They marched toward the roped off regents' area, leading to a physical altercation with security that prompted the regents to sneak out the back exit of the Michigan Union's Anderson Room out of fear for their safety, administrators said at the time. A video taken by The College Fix shows pushing and shoving and other aggressive tactics between protesters and security.

Attendees expressed surprise at BAMN's actions, many claiming they had never seen a regents meeting shut down in such a manner.
Emboldened by the recent conflict in Ferguson, BAMN has declared that now is the time to take action on their various grievances with the university.
"Ferguson, Missouri has made more than clear that our generation is not apathetic, and that there is boiling and growing anger, bitterness, and frustration in our youth, ready to be unleashed toward this rotten leadership," said student Jose Alvarenga, a key organizer of the protest.
Another protester pitched in: "We can shut down this campus really quickly. Ferguson has taught us that."
A central complaint of BAMN members is the perceived failure of the university to provide wholesale admissions access to Detroit students.
"We need action, and in particular, a Texas 10 percent plan for schools in Detroit," said student organizer Liana Mulholland, referencing a program in Texas where all students who finish in the top 10 percent of their class are guaranteed admission to the state's public universities.
Administrators have already explained that such a plan could only work in a state-wide university system, which Michigan currently does not have.
Yet one of the more vocal opponents of the perceived "resegregation" was Kevin Wolf, a Jewish freshman who wears a kippah and said he believes that the lack of minority enrollment in some way affects the Jewish community.
"All minorities are connected, all people want to express themselves, who have a rich culture, and don't just want to blend into the bourgeoisie of America, should stand up, fight back, and declare that we have a right to this campus, and that this campus should be an open place for culture, dialogue, and freedom of expression," he said.
BAMN shows no signs of stopping, verbally promising continued protests as their plan of action.
"It doesn't take 40 years to increase minority enrollment, it doesn't take a suit to increase minority enrollment; it takes shutting down this campus," announced one African American protestor. It was unclear if he was a student.
"We earned a place in history not because we made the right speeches, or said the right things, but because we took the right actions,"  he added.
After reading their previously stated list of demands, BAMN representatives took a vote regarding whether to endorse them. They passed, unanimously.
On top of this, the university may find itself in legal trouble stemming from this incident, after choosing to conduct the rest of the regents meeting behind closed doors, a potential violation of the Open Meetings Act. President Schlissel has said he'll refer the matter to legal counsel.
College Fix reporters Samantha Audia and Hunter Swogger co-authored this article.
VIDEO: Hunter Swogger, IMAGE: Samantha Audia
Like The College Fix on Facebook / Follow us on Twitter