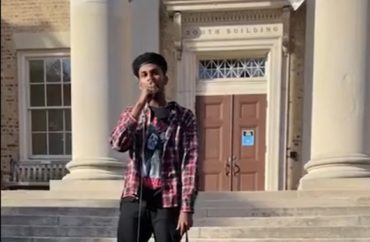 'White terrorists' are 'one in the same' with the 'pigs'
A recent protest at the University of North Carolina Chapel Hill against policing and the not-guilty verdict in the Kyle Rittenhouse trial included chants of "f*ck the pigs" and calls for a revolution.
The rally, held December 2 and hosted by the UNC Community Justice, Abolition and Antiracism, was designed "to bring attention to the Kyle Rittenhouse trial and its implications," according to the student group.
A video of the nearly one-hour campus event shows that it featured a parade of speakers voicing frustration over policing and claims of rampant systemic racism on campus and beyond.
One of the first speakers, named Yonni, identified himself as a sophomore and a member of the group.
The speaker made an analogy to slaves uprising against their owners.
"Revolution is when we slit the master's throat and we burn down his plantation," the student said to applause.
The student doesn't want "reform" or "change" but wants to "tear down" the whole "fascist" system, referring to the criminal justice system.
The student also lionized child rapist Joseph Rosenbaum and domestic abuser Anthony Huber, the two men fatally shot by Rittenhouse.
"They died revolutionary deaths, but don't let them die in vain," the student said.
MORE: Northwestern president shoots down police divestment
IMAGE: UNCCJAA/Instagram
Like The College Fix on Facebook / Follow us on Twitter