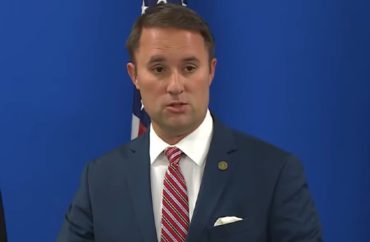 Student editors say AG Miyares overstepped by firing someone who has not been there in six months
The student paper of the University of Virginia as well as professors in the state are upset at Attorney General Jason Miyares – for firing a university counsel who has worked at a different job for the past six months.
Public university counsels in the state serve at the pleasure of Governor Glenn Youngkin and the state attorney general.
UVA's former counsel, Tim Heaphy, has not worked at the university since he took leave August 2021 to work on Speaker Nancy Pelosi's Select Committee on the January 6 Attack. "Effective August 16, 2021, Mr. Heaphy was placed on Conditional Leave Without Pay as he assumed his temporary role in Washington," university spokesperson Brian Coy told The College Fix via email on Tuesday.
But, according to the student editors of the UVA paper and a professor in the state, Attorney General Miyares (pictured) abused the powers of his office.
"Back down, Mr. Miyares," the editorial board for The Cavalier Daily warned. "In less than two weeks of being in office, he has fired University counsel Tim Heaphy — an abnormal move — and issued a legal opinion that could rollback vaccine mandates for all Virginia public universities."
The editorial board wrote there was little reason for Heaphy's removal. Except there was.
He was not there doing his job – instead he took a different position on a committee based in D.C., 116 miles away. That's a seven hour drive in I-95 time.
MORE: Three major Virginia universities cancel vaccine mandate
If he wants to work as the counsel to a Congressional committee, good for him.
He previously worked as a U.S. District Attorney and clearly has an interest in public service. But universities need attorneys to provide them with sound legal advice and actually be in the office to do their job.
The interim counsel for UVA will be Jasmine Yoon – who has been effectively the university's top attorney since Heaphy fled for D.C. for a more high-profile job.
The Richmond Times-Dispatch also sounded the sirens that AG Miyares and Governor Youngkin are using their state authority to appoint people that share similar visions to them.
"Jason Miyares removed the head lawyer at 3 state colleges. Professors and Democrats say he's wielding excessive influence," the state capital paper wrote in a redundant headline.
"These personnel decisions suggest colleges are being used as part of a political agenda, said Carl Tobias, law professor at the University of Richmond," the paper reported. Tobias is a reliable critic of Governor Youngkin for the Times-Dispatch.
"Universities need to be free, open places and not be politicized by the appointment of counsel who are loyal to the attorney general but not loyal to the university," Tobias told the paper.
MORE: Check out the Campus Cancel Culture Database
Wrong. Every taxpayer-funded state entity should be carrying out the priorities and policies of the governor, insofar as those are legal and good and respect the balance of powers set out in that state's constitution and other laws. Miyares' legal opinion on vaccines, for example, concluded that the state legislature has to vote on new inoculation requirements — they cannot come from the executive branch.
The paper never explained how firing an absentee attorney threatens the freedom and openness of the university.
If anything, having an actively available counsel to provide legal advice to the university on protecting free speech, academic freedom and following all state and federal laws is more helpful than having one working in D.C.
But a broader issues, according to the Richmond paper, might be that Miyares' firing of university attorneys cannot be opposed by the colleges.
"The firing and removing of college counsels reinforce the fact that state colleges have little recourse to oppose an administration," the Times-Dispatch bemoaned.
Right. The purpose of a state college on the whole is not to "oppose an administration" or support it. It is to educate the citizens of the state and other students who want to learn about nursing, economics, engineering or political science.
It is to provide a place for professors to conduct research that will benefit the state and the country.
Both education and research must be carried out following all applicable laws – which require an available university counsel working for the school, not Speaker Pelosi.
MORE: Critical race theory dominates Virginia election
IMAGE: WUSA 9/YouTube
Like The College Fix on Facebook / Follow us on Twitter