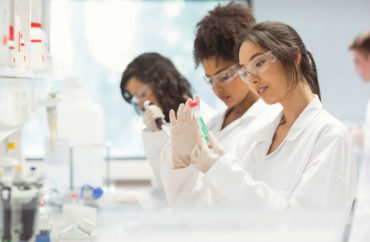 It would simply hide the achievement gap and worsen grade inflation
The University of California was already considering the elimination of SAT and ACT test scores from applications before a lawsuit argued the standardized tests are functionally racist and classist.
If it follows through on the proposal, the taxpayer-funded university system will not only discriminate against Asian-American students. It will cripple STEM education.
That's the argument of the Asian American Coalition for Education, which has fought "holistic admissions" practices at elite universities, affirmative action proposals in states, and even the short-lived "adversity score" the College Board added to the SAT.
In a Monday letter to the Board of Regents, President Yukong Zhao asked the board to seek the "critical input" of the Asian-American community, a large share of the UC system and a culturally and socioeconomically diverse demographic in America.
The university is contemplating elimination of "empirically designed tests" based on false correlations between these test scores and racial and socioeconomic background, he wrote. UC officials including Berkeley Chancellor Carol Christ are ignoring the "complex underlying problems" behind worse education for underrepresented communities.
MORE: Ditch the SAT or we'll sue, minority students tell UC
By swapping in more subjective and less rigorous measures of achievement, such as school-dependent GPA and Common Core-aligned Smarter Balanced Test Consortium, the board would not only exacerbate grade inflation and cover up the achievement gap. Zhao argues it would make America an even bigger embarrassment on the world stage.
"This systematic change will ostensibly weaken our STEM education by eliminating a common and realistic metric to efficiently measure students' mastery of scientific knowledge," he says:
America is only ranked 38th in math and 24th in science according to the 2018 PISA International Education Assessment. De-emphasizing academics in college admissions will further falter our nation's economic and educational competitiveness in the world.
The success of Asian Americans in education belies the claims by Christ and the litigants against the university system, Zhao continues.
They are nearly 30 percent of UC's undergraduate body and 15 percent of faculty, and they have thrived in places such as San Francisco and Los Angeles – "in spite of historically high poverty, insufficient public support and limited English proficiency" – because of the "merit-based principle."
AACE's press release on the letter is less restrained. Mirroring the language in his congressional campaign in Florida, Zhao said the attack on standardized tests is "a dangerous assault on American meritocracy by radical progressives."
MORE: College Board dumps 'adversity score' after adverse reaction
IMAGE: wavebreakmedia / Shutterstock.com
Like The College Fix on Facebook / Follow us on Twitter