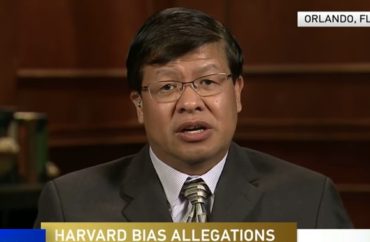 'Radical progressives' push race preferences 'to cover up their policy failure'
Yukong Zhao has challenged anti-Asian college admissions policies in federal agencies. Now he wants to take the fight to Congress.
The founder of the Asian American Coalition for Education is one of six Republican candidates vying for the party's nomination to take on Democrat Stephanie Murphy in Florida's 7th congressional district.
"I started my journey of defending the American Dream by leading Asian Americans' fight against racial discriminations in college admissions," Zhao told The College Fix in an email, referring to his coalition's efforts against Harvard and other elite universities.
Through the "overwhelming support from our communities and from the Trump Administration," which is currently investigating Harvard for its admissions practices, "we have made a difference on national policies" for college admissions.
The businessman cites his immigrant status as the reason he "cherish[es the] American political and economic system as our founding fathers originally designed." As a young man "who experienced firsthand the human tragedies of socialism" in Communist China, Zhao knows "from my heart why socialism failed miserably in China and worldwide."
While he's running on a traditional Republican platform, Zhao said his experience with the education coalition has helped shape that platform, preparing him for battle in Congress.
"The radical progressives do not want to address the root causes of racial gap on education achievement—poverty, crime, drug abuse, broken family and non-performing public schools in too many African and Hispanic American communities," he said.
These forces adopted race-based admissions "to cover up their policy failure and buy votes," turning "hardworking Asian American children" into "scapegoats."
MORE: Trump administration investigates Harvard admissions practices
Incumbent Democrat fled socialism too, yet 'she's aligned with socialists'
Zhao put institutions of higher education on notice with a press conference nearly five years ago.
He organized an Asian-American coalition that filed a federal regulatory complaint against Harvard, alleging the Ivy League university held Asian-American applicants to higher admissions standards.
AACE later filed a complaint on behalf of Zhao's son Hubert, who was rejected by three Ivy League schools while lower-performing students of other races from his high school were accepted by prestigious universities.
The immigrant businessman is a latecomer to party politics, telling state politics news organization Florida Politics that he became a Republican "after the Trump Administration took a firm stand to support the civil rights movement" for Asian-American students. That would be less than three years ago.
He participated in the first Republican primary debate on Jan. 10 with two competitors. Florida Politics reported that they spent much of their time criticizing Democratic incumbent Murphy's self-proclaimed moderation, rather than each other.
Zhao accused the two-term congresswoman of not learning the lessons of her family's escape from Communist Vietnam when she was an infant. "Both her family and my family suffered from socialism. Guess what?" he told the audience. "She's aligned with socialists, like AOC [Rep. Alexandria Ocasio-Cortez of New York] and Bernie Sanders. I'm against socialism."
Florida Politics mischaracterized one of Zhao's comments at the debate, he told The Fix: He did not take credit for "defeating Harvard in a landmark admissions discrimination case."
Harvard won the lawsuit brought by an allied group, Students for Fair Admissions, though the judge forced Harvard to turn over confidential admissions documents that revealed it rated Asian-American applicants lower on "personality" scores.
Asian-American groups also convinced the Trump administration to open an investigation, which is ongoing, and the Justice Department even implied Harvard's actions were "evil."
Zhao actually said at the debate that the Trump administration "adopted our policy recommendation on college admissions" and AACE's civil rights complaints led to federal investigations of Harvard and Yale, he told The Fix.
His personal story and "moderate conservative" platform are drawing in a diverse donor base: "conservative, independent, moderate democrats, small business owners, and professionals across many industries."
His campaign brought in more than $120,000 from more than 700 donors between Veteran's Day, when he registered, and early January, Zhao said. He couldn't provide The Fix any polling figures, saying it's too early for anyone to poll the race.
The majority of his donations are from small donors, with an average of $150. "Most support equal education rights for All Americans," he said.
MORE: Asian-American groups accuse Harvard of discrimination
'Political handouts' instead of addressing 'root causes' of academic failure
Zhao told The Fix his father was "politically persecuted" during China's Cultural Revolution, "which led to extreme poverty and devastating personal loss."
The young man "survived" China and immigrated legally in 1992 "with less than $200 in my pocket." Zhao got an MBA in 1996 and rose through the ranks at Siemens Energy. "I thrive in capitalist America," he said. (A founding member of AACE, Lee Cheng, characterized him as a "fearless and principled advocate for the American Way" in a post for the Zhao campaign's private Facebook group.)
"Today, the American Dream is under assault by the extreme left who want to introduce socialism and political correctness to limit American economic and political freedom," Zhao told The Fix. He blames politicians for "offering political handouts, rather than addressing the root causes of our nation's social and economic challenges."
For example, New York City Mayor Bill de Blasio has ignored the root causes of poor academic performance by black and Hispanic students, he said.
Their 8th grade English and math proficiency rates are "below half of that of white and that of Asian American students," yet de Blasio wants to address the problem by racializing "the admission system of New York Specialized High Schools," Zhao said: "It will not only harm Asian American children's equal education rights, but also undermine meritocracy, our nation's future."
One of the main factors that inspired him to run for Congress is his strong anti-socialist sentiment. "I have lived through the eras from Mao Zedong's socialism, the introduction of free market system to China by Deng Xiaoping and true capitalist America," which is why he loves the "free market system, the rule of law, freedom of speech and equal opportunity."
MORE: Prof runs for Parliament to save universities from themselves
Zhao cited an op-ed he published in the Orlando Sentinel last summer, after University of Michigan student Kathy Zhu was stripped of her Miss World title because of her politically incorrect social media posts.
This and other incidents show how "PC activists have spread their political battlefields to almost every corner of American daily life: our beloved sports, churches, our holidays, our shoes and even beauty pageants," he wrote:
As a first-generation Chinese immigrant, I begin to worry if America will get too deep into the disastrous path China suffered a half-century ago: Red Guards' politicization of daily life during China's Cultural Revolution.
He warned activists "not to continue this further into an irreversible course, because silencing your political opponents will destroy the foundation of American democracy."
Zhao is also criticizing quality-of-life issues challenging the country as well as the direction of the federal government's response.
"The government is rapidly expanding. Its spending grew from 7% of GDP a century ago to nearly 40% today," while "socialist Democrats and establishment Republicans" ignore "drug abuse, inner city poverty, [and] illegal immigration," he said.
With "skyrocketing" healthcare costs and college tuition, "The American Dream is fleeing away from too many hardworking citizens!"
MORE: College Board dumps 'adversity score' from SAT
IMAGE: CGTN America/YouTube
Like The College Fix on Facebook / Follow us on Twitter