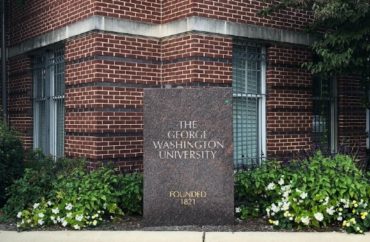 University will not say where the head currently resides
It's been five months since George Washington University found a bust of its namesake and the nation's first president on the ground.
University officials refuse to say when, if ever, it will be returned. Nor will they comment on the head's current location.
On June 1, someone removed the bust of George Washington at the private university in D.C. It was just one week after the death of George Floyd at the hands of Minneapolis police officers. Floyd's death led to nationwide protests, including protests in D.C.
The beheading happened during the week of protests and the student paper The GW Hatchet reported the removal and protests were connected.
The College Fix took photographs last week and confirmed the bust is still missing. None of the media relations officials contacted by The Fix responded to two emailed requests for comment in the past week.
The Fix emailed Assistant Director of Media Relations Crystal Nosal, director of media relations Maralee Csellar, media relations specialist Timothy Pierce and the general media relations email and received no response.
The school took three weeks in June to acknowledge the incident and then released contradictory information. The campus police log said the department had closed its investigation, but the school said otherwise.
Nosal told The Fix at the time:
We took a report and are fully investigating this property crime. There could be a variety of consequences for the person/people involved in a destruction of property, from legal charges to a violation of the student code of conduct.
However, the university's news release on June 24 stated:
GW staff located a bust of George Washington that was no longer affixed to its stand at approximately 1:30 a.m. on June 1, 2020, at 23rd and F Streets, NW. The bust was found lying directly beside the stand, and did not appear damaged other than from the fall. This incident did not appear to be a targeted protest against the university, and there were no reported crowds on campus that night.
There are other statues of Washington on campus that appear to have escaped vandalism. Those statues were still on campus as of last week when The Fix investigated the matter.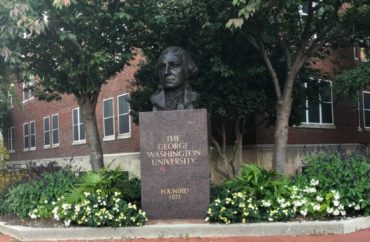 Last year, students voted to remove the "Colonials" as the school's mascot, though university officials have yet to do so.
Students have also demanded that the university explore the naming of its buildings.
Liberal student groups circulated a petition in July to rename several campus buildings.
It targeted buildings named for British Prime Minister Winston Churchill and Presidents James Madison and James Monroe. The petition said Churchill was "a fervent white supremacist and was complicit in the deaths of millions of colonized peoples."
MORE: GWU hides syllabus urging students to read books that equate conservatism and racism
IMAGES: The College Fix
Like The College Fix on Facebook / Follow us on Twitter