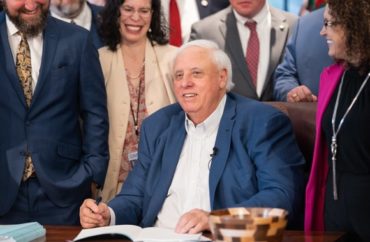 'The Second Amendment is a civil right that has been too long considered inferior to our other rights,' student says
Students, visitors and employees at West Virginia's public universities and colleges are one step closer to being able to conceal carry on campuses, thanks to a bill signed by Governor Jim Justice.
Senate Bill 10 will ensure that starting in July 2024, legal gun owners can conceal carry at public higher education institutions.
"Proud day for me," the Republican governor said at the signing.
A West Virginia University student leader told The College Fix he is glad Gov. Justice signed the legislation and suggested some other ways the state can protect the Second Amendment and encourage concealed carry.
The Fix reached out to sponsors of the legislation multiple times in the past two weeks to ask for a response to criticism of the legislation and their motivation behind the bill but none responded. The Fix also asked Fairmont State University's campus safety department for comment but it did not respond.
A supporter of the bill told The Fix via email that the legislation is a good first step in reducing crime on campus.
"The Second Amendment is a civil right that has been too long considered inferior to our other rights," Nathan Quarantillo, a law student and Republican club leader, told The Fix via email. "Criminals will no longer be sure that a student going about a college town is an unarmed easy target, and this will likely have a deterrent effect."
Though Quarantillo says he supports the bill, he wishes it provided students with the means to obtain a concealed carry permit.
"Currently, Campus Carry is only allowed to those with a valid concealed carry permit," he said. "As West Virginia is a constitutional carry state, I would make concealed carry classes available to students so they can get a permit without undue hardship."
University officials at Marshall University and WVU opposed the legislation.
"We, at West Virginia University and Marshall University, support local control, and we believe that our boards of governors are best suited to decide whether guns should be permitted on campus," the universities stated. "We therefore do not support statewide campus carry."
WVU student Olivia Dowler called the legislators "selfish" for passing the bill.
"It is selfish for the West Virginia Legislature to ignore the countless pleas of students, faculty, staff, administrators and parents," Dowler wrote in The Daily Athenaeum, the campus newspaper. "It is ignorant not to believe the data between firearms and mental health."
The bill does universities to limit concealed carry in daycare facilities on campus as well as in arenas that hold more than 1,000 people and several other places.
Evidence for harms of campus carry remains thin
While professors and universities have often claimed that campus carry is dangerous, two separate articles by The Fix have found that there is no data to support these concerns, and many critics of concealed carry never attempted to validate their claims through later research.
"Emporia State did not have gun violence before the law changed, and there has been no violence since the law changed," a spokeswoman with the Kansas university told The Fix in 2019.
Utah's Dixie State University also did not see an increase in gun murders or injuries since guns were allowed on campus there, The Fix reported.
A separate 2021 article found a similar lack of evidence to support claims that legal gun owners on campus would pose a danger. For example, while the Association of American Colleges and Universities warned that guns would harm academic freedom and debate, it later told The Fix it "does not collect or track data related to such incidents."
"I have not and don't plan to do research," Professor Daniel Hamermesh at the University of Texas-Austin told The Fix in 2021. He had previously quit his job in 2015 over the campus carry law in that state. "I've not seen any examples on this–but I haven't looked/inquired," he also said, when asked if he had any data or planned to research his previous claims.
MORE: UMinn legal clinic will partner with attorney general office to sue gun companies
IMAGE: Public domain
Like The College Fix on Facebook / Follow us on Twitter