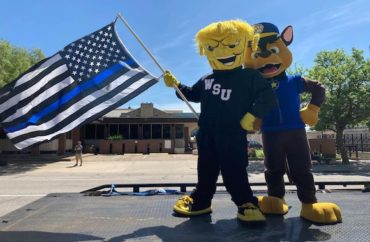 The mascot for Wichita State University was photographed waving a "thin blue line" flag at a police charity function earlier this month, angering many students and community members.
According to The Sunflower, the mascot "WuShock" held the flag while participating in a Wichita Police Foundation event on June 2. The celebration also featured the popular Budweiser Clydesdales.
After the photo of WuShock holding the flag was posted to the Wichita Police Department Facebook page, many comments blasted the mascot's participation.
"Do you know what that blue line represents! It symbolizes hate and racism!" one commenter wrote. Another said the police and Wichita State are "both comfortable with blatantly desecrating the American flag."
Other comments included "You better get that flag out of my boys hand right tf now," "[E]xplain to us all how the police are such a marginalized minority group that they deserve the same level of representation that Black lives need," and "[T]his is so disappointing!!!!!!!! Embarassed [sic] to be a WSU fan right now."
A factor in the negative reactions is the recent revelation that some Wichita police officers had shared racist memes with one other, including a doctored image of George Floyd. According to The Sunflower's Mia Hennen, the thin blue line flag "began to take on an increased meaning of an 'us vs them' mentality to many, meaning the police vs Black people" following Floyd's murder.
MORE: Cal State Fullerton axes thin blue line symbol after professor complains
Many comments focussed [sic] on the ill-timing of the post, referring to the recently leaked text messages between local enforcement officers that showcase racist memes and texts, reported by the Wichita Eagle in May 2022.

"Flying a racist symbol after getting busted for racist texts?" a commenter wrote. "Doubling down isn't exactly winning hearts and minds."

At this time, neither Wichita State nor Wichita State Athletics has made a public statement about Wu holding the flag.

"There's definitely a lot of things that need to be fixed," WSU senior Ramon Mostate said. "If you're gonna represent one thing, you got to do it for the others as well because (posting/flying the "thin blue line" flag) is gonna make 90 percent of the school feel alienated, especially with the cultural connotations of that flag."

When asked via email about the event and Wu, Associate AD for Strategic Communications Tami Cutler said that WSU looks forward to continuing to improve the mascot program.
Recent WSU graduate and former Student Senator Kathlynn Short, who considers herself the "leading expert" on WuShock, sent an email to numerous WSU officials noting she was "wholly unready" to see the mascot holding the thin blue line flag.
"First and foremost, this is a political statement, whether or not this is always considered to be as such," Short wrote. "Secondly, this flag was created to be a symbol of opposition to the Black Lives Matter movement: a sentiment that I truly hope is reflected by the university.
"I am ashamed to see WuShock associating with such an alienating symbol."
MORE: Student government senator impeached for defending Thin Blue Line masks
IMAGE: Wichita Police Dept. / Facebook screencap
Like The College Fix on Facebook / Follow us on Twitter