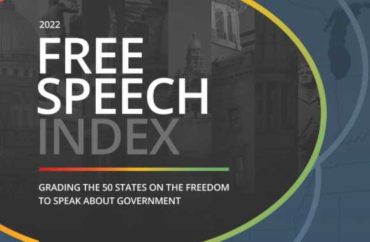 'Very few know the full extent to which states now regulate and suppress speech about government' 
The Institute for Free Speech, a First Amendment rights nonprofit advocacy organization, recently released a Free Speech Index, billed as "a first-of-its-kind analysis of laws restricting speech about government in all 50 states."
"Very few know the full extent to which states now regulate and suppress speech about government," according to an essay introducing the rankings.
The institute assessed states on multiple factors, including laws regarding campaign contributions, laws restricting the spread of "false information," and the invasiveness of speech-restricting laws.
The index, released in August, ranks each of the 50 states as to how well each state supports the rights of individuals and groups in speaking freely about candidates, public policy, and other aspects of government, according to the website, adding it is a "comprehensive examination of state laws governing and regulating political engagement."
Wisconsin ranked first, with a score of 86 percent, followed closely by fellow midwestern states Michigan (77 percent), and Iowa (75 percent), according to its grading system.
Many liberal coastal states missed the mark, however. New York ranked the worst, with a grade of just 15 percent. Connecticut (18 percent) and Washington (22 percent) rounded out the bottom three.
Policies hostile to free speech have "graduated from college and moved into state houses across the country," Research Director Scott Blackburn told The College Fix via email.
"Some of that hostility motivates the laws targeting issue speech and campaign speech that the Index tries to document," he said.
The group's website states that for Americans, "trying to speak and stay on the right side of the law today is 'confusing and dispiriting,' often by design."
"Complex regulations impede independent scholars, small groups of advocates, and passionate citizens from making a difference with their speech. The only voices who can speak effectively are those already in power – the professionalized political actors with the resources necessary to operate in an increasingly legalistic and bureaucratic environment."
Blackburn contrasted the institute's scoring system with the Foundation for Individual Rights and Expression's free expression rankings for universities.
"FIRE looks at free speech and free expression more broadly," he stated.
The Fix reached out via email to FIRE to ask whether they noted any parallels or connections between their own work on campus free speech culture and the Institute for Free Speech's rankings on freedom of political speech.
FIRE's Policy Reform Director Laura Beltz said she was "not sure whether there's a correlation between states with a good free speech index ranking/good free speech laws and campuses with a good culture for free speech."
"Our spotlight ratings are much more similar to the index compiled by IFS as they rate schools based on their speech policies," said Sean Stevens, a senior research fellow at FIRE.
MORE: Columbia is the worst college for free speech, FIRE report concludes
IMAGE: Institute for Free Speech
Like The College Fix on Facebook / Follow us on Twitter