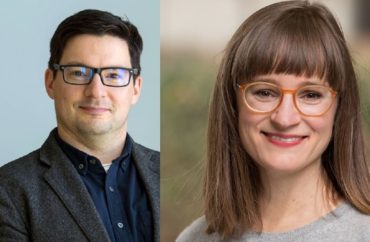 ANALYSIS: Paper latest example of how woke U. Minnesota academics pass off political views as scholarly work
A paper on "diversity, equity and inclusion" in health services departments has been retracted for misrepresenting the "authenticity of experiences" cited.
But the paper is just the latest example of how woke University of Minnesota academics pass off their political views as scholarly work.
"Transactional and transformative diversity, equity, and inclusion activities in health services research departments," first published on Jan. 8 in Wiley Online Library and then in March in Health Services Research, contained problems acknowledged by the authors.
One of the authors works for the school's "Center for Antiracism Research for Health Equity." The lead author is Professor Janette Dill (pictured, right) who works in the School of Public Health with co-author Stuart Grande (pictured, left). The third author is Tongtan Chantarat, a research scientist at the "Antiracism Research" center.
The health equity research center was started with seed money from insurance giant Blue Cross Blue Shield of Minnesota. It is run by an academic who does not have a medical degree.
"The retraction has been agreed following concerns raised by the authors following publication that their characterisation of specific data (personal narratives and experiences) was either inaccurate, misleading, or false," the notice stated. "The final submitted manuscript unintentionally contained content that mischaracterised the authenticity of experiences represented, and the authors have requested retraction."
"The article details the DEI-related activities within the school's Division of Health Policy and Management that were implemented from 2020 onwards amid calls for racial equity," Retraction Watch reported.
"Dill, the corresponding author on the paper, declined to speak on the record about the retraction or point to which parts of the article mischaracterized personal narratives and experiences," Retraction Watch reported. "The two other authors did not respond to requests for comment."
The University of Minnesota has leaned in heavily into linking health and DEI research together, as previously reported by The College Fix.
For example, Dill has co-authored a paper with Rachel Hardeman on "Occupational class, power, and hypertension inequity," according to the retracted scholar's biography. Hardeman is a professor at the University of Minnesota and a board member for a regional Planned Parenthood.
MORE: Prominent professor accused of falsifying research data leaves job
Hardeman received $800,000 to study "racialized violence" and its association with "adverse reproductive health outcomes," as previously reported by The Fix.
The public health professor "leverage[s] the frameworks of critical race theory and reproductive justice" in order "to inform her equity-centered work which aims to build the empirical evidence of racism's impact on health particularly for Black birthing people and their babies."
"Antiracist research is a revolutionary way of doing research grounded in the understanding that racism is a fundamental cause of health inequities," Hardeman has said. She is not a medical doctor.
She has published a paper that claimed policing is linked to adverse birth outcomes, but her own research acknowledged that it never established a direct link.
"[W]e did not (and would not have been able to) ascertain whether the pregnant people in our study had personal contact with the police before or during pregnancy," the researchers wrote.
Professor Hardeman is a perfect person to pair with Professor Dill on politicized research, as her own scholarly work is thinly veiled political activism.
For example, Hardeman wrote a political essay for the once-prestigious New England Journal of Medicine about how "abortion access" is a "racial justice issue." Her opposition to restricting the killing of innocent preborn babies dovetails nicely with her board membership with Planned Parenthood, which stands to lose if laws protecting the sanctity of human life are implemented.
This won the media attention desired, as this essay was quickly cited by Minnesota Public Radio and the Star Tribune, while National Public Radio and Nebraska Public Radio quoted Hardeman as an expert on the issue of race and abortion.
MORE: Tulane seeks 'activist media' scholar for tenured position
IMAGES: University of Minnesota
Like The College Fix on Facebook / Follow us on Twitter