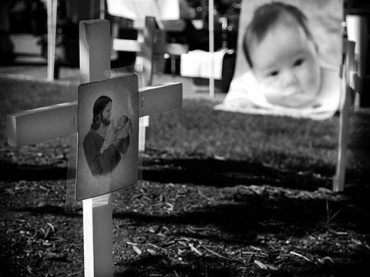 UPDATED
Is it just a "chalk-on-chalk war," or an attempt to silence and intimidate someone you disagree with?
The Students for Life chapter at the University of Nevada-Las Vegas caught an abortion activist bragging on Instagram about how she had vandalized their pro-life chalk display soon after it was completed on Wednesday.
That activist, by the way, is a "care advocate" at the campus Women's Center. The display was in the university's so-called free speech zone.
Clare Finley shared her story about the vandalism with Students for Life of America:
Tonight we chalked in the "free speech zone" on campus. We did nineteen hearts, each representing 3 million children for the total 57 million aborted since 1973. When we were done chalking, a girl stormed out of a building (which houses the Women's Center) and started taking pictures of our work. …

She got on her phone and started loudly ranting, including how she wanted to "barf all over [our chalk messages]", etc. We didn't expect opposition SO soon after drawing our messages!

After the gentleman left, she walked back towards the building. As we were leaving I politely offered her a business card, but she just put up her hand and told me to "get away from her".
The display had been drawn over with abortion-rights language and claims when Finley returned after a workout. She emailed the Women's Center after identifying its employee Holly Ramella bragging about the vandalism on her Instagram account.
Though her account is now marked private, Ramella approved The College Fix's request to see her photos. She appears to have erased the incriminating post showing her chalking over the pro-life message – the last post is a week old.
But Finley took a screenshot of that post. She told the Women's Center leaders that she wants the same respect from their employees as the pro-lifers give their opponents:
That is why the specific free speech zone is a great area; for example, while we do not support or agree with the provider Planned Parenthood, UNLV Students for Life 100% respected their right to express their message in the free speech zone for their #PinkOut day.  We expect our fellow students to show that same level of basic human respect and civility despite differences in belief.
Ramella's Instagram post, according to Finley, read:
When anti-choices write all over the free speech area about how many babies have been aborted… chalk wars begin.  I spent 20 minutes writing over their numbers with some numbers I think they should know.  Like the fact that 47 thousand women die every year due to unsafe abortions and 21.6 million women have experienced an unsafe abortion.  As a student who has friends that have had abortions, I can't stand idly by while their shames for their choices.  I will always stand by a woman's right to choose and I will always participate in a chalk on chalk battle.
Finley continued:
I too have friends who have had abortions, and they do not feel shamed by our chalking message (which does not call shame on women).  It troubles me that Holly mentioned "chalk wars" and a "chalk on chalk battle".  This is a free speech zone, not a war zone.  We are more than welcoming to her chalking (this particular free speech zone is plenty big and we all have equal access and rights to it); however, we will not stand for vandalism.
Students for Life of America has photos of the vandalized messages.
CORRECTION: The headline of this article originally said the employee was caught "red-headed." It has been corrected to read "red-handed."
Like The College Fix on Facebook / Follow us on Twitter
IMAGE: Beth Rankin/Flickr