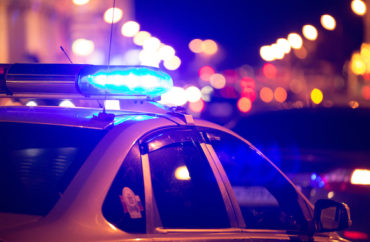 'Every white student' is 'complicit, and often active' in racism
A Columbia University student tried to enter the library of its sibling women's college, Barnard, close to midnight. Barnard requires students of either institution to present identification after 11 p.m.
Police officers asked the student for identification. He refused. They "physically restrained" him, according to the Columbia Daily Spectator.
It was a black student, so of course the officers and the police chief have been suspended.
Barnard College also plans to hire "an independent investigator to review what transpired Thursday night and to provide us with recommendations for further action," President Sian Leah Beilock told the community in the second of two messages Friday.
Alexander McNab, a staff writer for the Spectator's magazine, told the Spectator he knew about the 11 p.m. cutoff but claimed that "white students were often not asked" to present their IDs at Barnard's main gates.
It's clear from videos taken that Barnard is punishing the officers and feeding a racial frenzy because its officers are following the college's own rules:
According to McNab's account, after he entered the gates, an officer followed him into the Milstein Center, continuing to request his ID, and when McNab declined, more officers were called to the scene. Multiple videos taken by witnesses show that, after trying to compel McNab to leave the building, two officers physically pinned him down to the counter at Peet's Coffee, after which he handed them his ID. …

The officers confiscated McNab's ID, saying they needed to verify that he was an "active" Columbia student. A total of at least six officers surrounded McNab by the end of the incident.
There's a dispute over how quickly McNab was moving when he entered the Barnard campus and continued toward the library. Officers said he "ran past" a police van and "continued running," but McNab and some witnesses claimed he was "walking at a normal pace," according to the Spectator.
McNab claims the officers had no reason to restrain him because "I hadn't made any threats."
MORE: Columbia, Barnard students call for violence against Trump supporters
In her first Friday message, President Beilock claimed that Barnard is "committed to the safety and security of our students, faculty, staff, and guests," even though its actions send the message to police that they are not allowed to enforce campus rules on black students.
She called the incident with McNab, who has previously been mistaken for a homeless man on campus, "unfortunate" and said it "has raised concerns about our safety and security policies and how they are enforced."
Beilock all but assured the community that black students won't be required to follow campuswide rules on public safety, and she implied that the officers showed "hate" toward McNab:
Incidents like the one last night highlight the need for us to continue our campus-wide conversations around public safety and to ensure that our policies are clear and are consistent with our values. We appreciate that students have raised such concerns and helped to spark an important dialogue and self-reflection.
After hosting a "listening session" early Friday evening, Beilock (left) sent her second message to the community. It thanked those who participated and said the community had been "deeply impacted" by the officers' enforcement of Barnard rules.
In addition to the outside investigation, she said both the officers and the chief "have been placed on administrative leave pending the outcome of this investigation."
According to another Spectator report, the deans of the School of Engineering and Applied Science, General Studies, and Columbia College said the enforcement of rules demonstrated the "continued legacy of anti-black racism that has existed in our country since its founding":
The more recent climate of racism and inflammatory rhetoric in both the country and the world at large continues to demonstrate a rising trend that targets marginalized populations. We are disturbed that such incidents continue to occur so close to home, and share in the hurt and pain many of you may be feeling.
Students organized a protest against police after Beilock's first statement. The event listing said "every white student needs to understand how they are complicit, and often active, in allowing assaults like this to happen."
Independent Columbia student blog Bwog said more than 100 students participated at various points of the protest. Bwog flatly called the enforcement of Barnard public safety rules "racist."
In John Jay lobby, black students and POC make a definitive stance against the racist Public Safety incident. The sign reads: "!Student! Do not pin this Negro down" pic.twitter.com/zFxkq2uzOc

— Bwog (@bwog) April 13, 2019
"No justice, no peace, fuck these racist police!" pic.twitter.com/PjBV2qxK0c

— Bwog (@bwog) April 13, 2019
Protesters also amassed outside the police office.
"Public Safety is not safe. Public Safety shame on you." pic.twitter.com/EbPRxd2ced

— Bwog (@bwog) April 13, 2019
The administration is creating a "Barnard Community Safety Group" composed of students, faculty, staff and "outside experts" to review public safety policies, "equal enforcement, and transparency surrounding them," according to a Spectator report Monday. It's being led by Barnard's top diversity bureaucrat, Molree Williams-Lendor.
Beilock's third email to the community, reprinted in full by the newspaper, went further than earlier ones. It said the enforcement of public safety rules on black students was "unacceptable and antithetical to our mission" and that Beilock was as "deeply troubled" as the students who chanted "fuck these racist police!"
"We must ensure that public safety officers act equitably toward all and that the community trusts this will occur," the president said, making no mention of any conversations with campus police for their perspective. Instead, she repeatedly tarred them as racist.
h/t Inside Higher Ed
MORE: What triggers Barnard students: Pokemon GO, Constitution, 'white men'
IMAGE: ArtOlympic/Shutterstock
Like The College Fix on Facebook / Follow us on Twitter