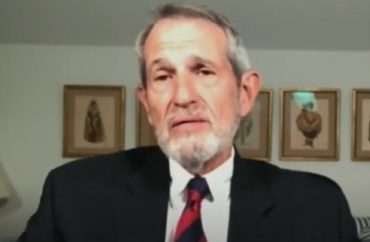 Based on small study without control group
The purported benefit of matching racial minorities with healthcare professionals of the same race does not have scientific backing, according to a new analysis.
Dr. Stanley Goldfarb, a former associate dean of the University of Pennsylvania medical school, recently explained the flaws of a 2018 study titled "Does Diversity Matter For Health: Experimental Evidence from Oakland," published in the American Economic Review.
The paper argued that "racial concordance" between physicians and patients will help improve medical outcomes for racial minorities.
However, the study is severely flawed, according to Dr. Goldfarb, who started a nonprofit to combat wokeness in medical school.
The study claimed that matching minority doctors with minority patients would lead to better health screening, which would ultimately lead to "a 19 percent reduction in the black-white male cardiovascular mortality gap and an 8 percent decline in the black-white male life expectancy gap." But the authors of the study admit that these are "back of the envelope calculations," Goldfarb (pictured) wrote in an analysis for City Journal.
"No sound evidence supports resegregating health care, and taking this dangerous road will surely lead to worse health outcomes," Goldfarb wrote. He explained that there was "no meaningful control group" in the study, which "recruited more than 1,300 black men from local barbershops and flea markets."
The College Fix reached out to Goldfarb's media representative multiple times over the past three weeks but did not receive comment from him. His spokeswoman said she would share the questions with him.
MORE: Patients aren't helped by activist medical education, Goldfarb says
The basis for the claim that matching black individuals with black doctors would lead to better healthcare is that the patients generally agreed to more preventative check ups when paired with someone of the same race.
This metric is also one of the "unproven logical leaps" in the study, according to Goldfarb.
"The authors believe that five one-time interventions—such as blood pressure measurement and diabetes testing—will transform individual health," he wrote. "Yet preventative screening is effective only if used in a patient with a high likelihood of being at risk for a particular clinical condition, something the study made no attempt to discern."
Finally, the study suffered from an insignificant number of doctors. Goldfarb wrote:
As for the physicians, only 14 were used—eight nonblack, six black. The authors use percentages to imply a far larger sample, noting in one case that 67 percent of black physicians in the study specialized in internal medicine, but that simply means four out of six. Such a small and non-random sample of physicians is not generalizable to the medical profession.
None of the three authors of the study responded to requests for comment. Marcella Aslan, formerly at Stanford University and now at Harvard University, did not respond to an emailed request for comment on Goldfarb's criticism, sent in the past two weeks.
Grant Graziani at the University of California Berkeley did not respond to three emails sent in the past two week. The third researcher, Owen Garrick, could not be reached for comment. The Fix received a "blocked" message in response to an inquiry sent to Garrick.
MORE: UCSD med school trains doctors to use CRT in health care
IMAGE: Newsmax/YouTube
Like The College Fix on Facebook / Follow us on Twitter