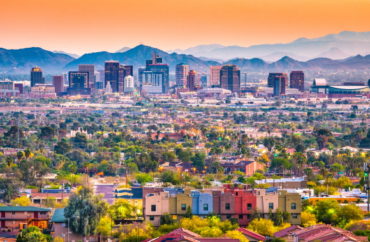 Over 96 percent of Arizona public university faculty members that have given to federal candidates in the past two years have donated to Democrats, according to an analysis by The College Fix.
Faculty members at Arizona's three largest public universities gave $1,325,709 to Democratic federal candidates during the current election cycle, while Republican candidates only collected $54,364, according to Federal Elections Commission data of donors who listed their employer. The data include lecturers, faculty, professors, administrators, librarians and other employees.
Of those contributions, Democratic presidential nominee Joe Biden collected $198,947, while Republican Donald Trump raised only $13,907, or just over six percent of the total given to the remaining major presidential candidates.
In 2016, Trump won Arizona by a total of 91,234 votes, or nearly four percentage points. A Real Clear Politics average of polls currently shows Trump trailing Biden in Arizona by slightly more than three percentage points.
The fundraising totals at the state's two largest public universities, Arizona State University and the University of Arizona, are remarkably similar.
At Arizona State, Democratic federal candidates have raised $601,206 (or 94.3 percent of the total) from faculty members, while Democrats have raised $614,484 (97.2 percent) from faculty members at the U of A.
At the same time, Joe Biden has raised $95,296 from Arizona State faculty and $84,778 from U of A faculty, or 92.6 percent and 93.7 percent, respectively.
The school most favorable to Democrats, however, was Northern Arizona University, where 99.2 percent of all contributions to federal candidates went to Democrats. At NAU, Republicans only raised $848, of which $729 was donated to Donald Trump.
All total, NAU faculty donated nearly $111,000 to federal candidates.
At every state university, the leading fundraiser was Democratic U.S. Senate candidate Mark Kelly, who is running against Republican incumbent Martha McSally. At the U of A, for instance, Kelly has raised over $242,000 — or nearly three times more than Biden.
All total, Kelly has a whopping $424,937 to $13,331 state faculty fundraising lead against McSally. At NAU, McSally has not raised a single dollar, while Republican Sen. Lindsey Graham of South Carolina has raised $100.
In previous analyses, The Fix has found that 92 percent of faculty donations in Ohio, 96 percent of faculty donations in Pennsylvania, 94 percent of faculty donations in Michigan, and 89 percent of faculty donations in Florida, and 98 percent of faculty donations in the University of Wisconsin System went to Democrats.
A primary reason the percentage of donations given to Democratic candidates is higher than the Trump vs. Biden head-to-head numbers is because of the money donated to Democratic presidential candidates who are no longer in the race. For instance, at the U of A, Trump is still being outraised by Sen. Bernie Sanders, Sen. Elizabeth Warren, former South Bend Mayor Pete Buttigieg, and Sen. Amy Klobuchar.
The FEC numbers reviewed by The Fix were updated on September 21, 2020. The 2020 election cycle began on January 1, 2019.
MORE: 98 percent of political donations from the University of Wisconsin System go to Democrats
IMAGE: Sean Pavone / Shutterstock
Like The College Fix on Facebook / Follow us on Twitter