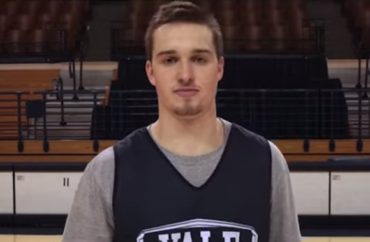 Finalized the same day Yale's pretrial memo was due
It took Jack Montague three years, but the basketball team captain who led Yale University to its first NCAA tournament in more than 50 years has achieved some measure of justice.
Rather than face a jury after a federal judge dismissed motions for summary judgment, the Ivy League school has settled Montague's due-process lawsuit, which stemmed from its finding that he sexually assaulted a female student.
The Yale Daily News reports that the parties agreed to bear their own costs and fees in the stipulated dismissal, but the terms of the settlement were not otherwise disclosed. They met for a settlement conference May 7, a month after U.S. District Judge Alfred Covello sent breach of contract, "basic fairness" and "improper motive" claims to a jury.
The university's last settlement with a student who sued after being found responsible for sexual assault was January 2018, according to the Daily.
"The parties have resolved the case to their mutual satisfaction," Montague's lawyer Max Stern said in a statement given to the New Haven Register. It's not clear whether Montague is still at Belmont University, where he transferred in fall 2017; at the time Stern said he'd need two semesters to complete a degree. The College Fix has asked Stern for Montague's academic status.
According to Brooklyn College Prof. KC Johnson, who chronicles Title IX litigation, the parties filed the stipulated dismissal the same day Yale's pretrial memo was due.
Johnson previously claimed that he'd never seen a judge question a university's adherence to its own evidence standard of preponderance – sometimes called "more likely than not" – before Covello's ruling.
MORE: Yale suspended student for condom accident, he claims
&, obviously, the national contrast: CBS News covering the filing of the claim in its evening news broadcast; NBC, ESPN, Washington Post all covering Montague's expulsion, & then scant (ESPN) or zero (others) coverage as Yale's actions unraveled in court.

— KC Johnson (@kcjohnson9) June 25, 2019
Montague's case was unusual not only because he was a high-profile athlete who fought back in court, but because of Yale's documented attempts to get his accuser to make a formal accusation.
It's undisputed that all but one of Montague's sexual encounters with his accuser were mutually consensual. She accused him of sexually assaulting her on a night where she returned to his bed after the alleged assault, yet was reluctant to formally accuse him.
Yale officials changed her mind by insinuating that Montague had been found responsible for a similar offense. He had actually been sanctioned for drunkenly stuffing a paper plate down a woman's shirt at a pizza place, and gone through "sensitivity training" as punishment.
MORE: Jury will decide whether Yale railroaded Montague
The university treated the accuser as the complainant in everything but name, letting her give an "emotional opening statement" and participate throughout the hearing, according to Montague. The Title IX office brought the formal complaint. Had the accuser made an informal complaint, Yale could not have expelled Montague.
Judge Covello also allowed claims against two Yale officials to be considered by a jury: that they committed misrepresentation or fraud in order to convince the accuser to participate in a formal proceeding against Montague.
The university also withheld the fact that the chair of the hearing, David Post, had met with the accuser before she agreed to participate. Montague said he pressured her to change her complaint from informal to formal.
Ashe Schow of The Daily Wire notes that going to trial "has not gone well" for other universities in due-process lawsuits by accused students. Duke University hasn't let a similar case go to trial since an administrator testified that it's the man's responsibility to get consent if both he and his female partner are drunk, she said.
Read the Daily News, New Haven Register and Daily Wire coverage.
MORE: Federal appeals court slaps down Boston College in Title IX suit
IMAGE: ydnmultimedia/YouTube
Like The College Fix on Facebook / Follow us on Twitter