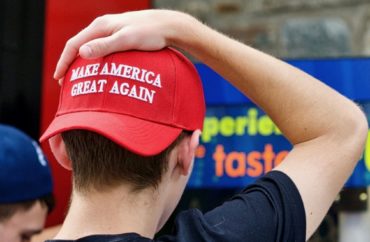 UPDATED
Was it really a private conversation?
A student at Indiana University of Pennsylvania is being prosecuted for recording a conversation with a professor whom he suspected of discriminating against him for his political views.
Jared Schafkopf disputes the charges: felony wiretapping for recording the conversation with Rachelle Bouchat, associate professor of mathematics, and disorderly conduct because Bouchat told police she "feared for her safety" and her children's.
Though the student shared the police report with The College Fix, he declined to answer several questions or flesh out certain allegations, citing his lawyer's advice.
Pennsylvania is a two-party consent state, meaning both parties must know a private conversation is being recorded. While Bouchat claims she was not aware that Schafkopf was recording their in-office discussion, the student claims the conversation was not private.
He wrote in an email that he showed no criminal intent in recording his professor because it was for "my own protection," and that the disorderly conduct charge is based on a "blatant lie":
This radical left professor has no problem destroying my future and the university that is supposed to get me ready for a career is letting me be discriminated against for being conservative and letting a professor ruin my future with a felony for simply confronting her in a calm polite way.
Schafkopf did not mention a parallel student conduct proceeding in his interview. IUP is a public university, meaning its options are limited in how it can discipline him for speech that is not harassing. Bouchat did not respond to an email query from The Fix last week.
The case is different from another recording controversy from nearly four years ago.
California's Orange Coast College suspended a student for recording his professor's classroom rant against Donald Trump's election, and ordered him to apologize in writing. Caleb O'Neil also described his actions as a matter of protecting himself.
The college rescinded the sanctions after O'Neil retained a high-profile lawyer and the local newspaper called for its board of trustees to be recalled and replaced.
Though classroom bans on recording preceded the COVID-19 pandemic, they got a boost as instruction moved largely online. Cornell University and Notre Dame both imposed recording bans this spring.
She responded 'very angrily and aggressively' after he wore MAGA hat
At least one federal court ruling deals squarely with students' rights to record on school property.
In 2017, months after the Orange Coast College resolution, a judge in Maine denied summary judgment to a school district that had refused to let a student wear a recording device to his middle school, citing the Supreme Court's Tinker standard on student expression.
The autistic boy's parents had alleged he was being abused, and the judge said the school may have applied the recording policy to him in a "viewpoint-based manner" to avoid scrutiny.
Schafkopf told The Fix his aim was also to document wrongdoing by his professor, though he declined to specify whether he was accusing Bouchat of grading him down for his conservative beliefs.
Now a rising senior at IUP, the student was taking a business calculus course with Bouchat (below) during the fall semester of the 2018-2019 academic year. Early in the term, he wore a Make America Great Again hat to class.
MORE: Court ruling could protect students who record professors' classroom rants
Schafkopf said he got a negative reaction from the professor, whose political views he describes as "radical left." (He did not otherwise specify her views.) Through the end of the semester, he perceived discrimination from Bouchat.
"Essentially I would raise my hand to ask a question and she either wouldn't call on me whatsoever, or when I would get a question out, and then every single time there would be essentially an aggressive response," Schafkopf said in a phone interview. No matter what he said, Bouchat would always respond "very angrily and aggressively."
To make sure the angry responses he perceived were not just in his head, Schafkopf said that multiple students confirmed to him at parties and other social events that Bouchat was purposefully targeting him.
On Feb. 27, 2019, Schafkopf "calmly" confronted his former calculus professor about the political discrimination he felt he received the previous semester. He specifically told her that he was not there to threaten her.
At one point during the meeting, he revealed that he was recording the conversation with a GoPro camera. At that point, Bouchat called the campus police.
Professor says he didn't threaten her, but was 'alarming and intimidating'
According to the police criminal complaint, Bouchat told the officers on scene that Schafkopf came to her office, which "she occupies alone and privately," to discuss the grades and final exam score he received in her class the previous semester.
Bouchat told police that Schafkopf became "irate with her answers," the report says, such that she "feared for her safety as well as her children's." According to Schafkopf, her children were not on campus and he did not make any threats.
The professor explicitly admitted he didn't threaten her, but said his "behavior and demeanor was alarming and intimidating," the report says. (The student gave The Fix just the first page of the report, which says it continues on the next page.)
He rebutted the charges in his email to The Fix. His conversation with Bouchat took place at "a public building, door open, busy hallway," and people could hear the conversation: "I don't believe it's wiretapping." There's no factual basis for "disorderly conduct" either.
MORE: Professor tells students: Trump's election an 'act of terrorism' (VIDEO)
The student declined to provide more detail on why he recorded his professor, citing his lawyer's advice, but said it was for his "own protection" and to show Bouchat that "students will stand up to her if she's going to discriminate."
Schafkopf alleges that the university is complicit in viewpoint discrimination against him.
"I've talked to multiple people at the university," he told The Fix in the phone conversation. "I've talked to the person in charge of Title IX; I've talked to the dean of the department. Essentially everyone just turns their back to it."
Furthermore, he suspects that one of the district attorneys who charged Schafkopf is friends with the professor because of how quickly this DA took sides. "It was very weird how things played out," he said.
An overly passionate public defender
On March 6, 2019, campus police showed up at Schafkopf's home to serve a search warrant. The cops "raided" his house and seized all his electronics, the student said.
The two officers on scene demanded that Schafkopf give them the passwords to all his electronics, or he would not get his possessions back for a while, he added. (The report only says Schafkopf gave them access.)
In an email Wednesday, he told The Fix he couldn't share the recording: "The police claim the video would be illegal for me to have or send at this point, they have a copy of it at the iup police station." He unlocked his computer at the police station: "They took care of copying and deleting it."
For the preliminary court hearing Schafkopf chose to go with a public defender, who called the charges "a joke," according to the student.
At this point, the court was going to give him two years of Accelerated Rehabilitative Disposition, a Pennsylvania program given to nonviolent first-time offenders to avoid a drawn-out and costly trial.
The public defender argued for a summary offense — which typically results in just a fine — instead of the two years of ARD. Prosecutors "laughed in his face and said the best offer is 6 months ARD," and they declined, Schafkopf wrote in the email.
While he was in another room, the student said, the lawyer screamed at others in his passion to reduce the charges. Schafkopf believes this is what led prosecutors to go back on their deal and bring back the two years of ARD instead.
At that point, Schafkopf hired a private attorney whom he thought "got the deal back on the table," and in writing. At the ARD hearing, however, the judge said the deal was two years of ARD or nothing.
The student decided to go to trial. The latest entry on the docket, June 30, says he's "awaiting trial." Schafkopf told The Fix July 1 that he has a "criminal call" coming up in August.
UPDATE: The Fix asked Schafkopf after this article was published if he still had a copy of the recording to share. He responded: "The police claim the video would be illegal for me to have or send at this point, they have a copy of it at the iup police station." The article has been updated.
MORE: Student who recorded prof's anti-Trump rant suspended
MORE: College rescinds suspension of student who recorded anti-Trump rant
IMAGE: John Chase / Shutterstock.com, Indiana University of Pennsylvania
Like The College Fix on Facebook / Follow us on Twitter