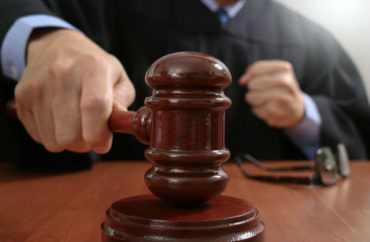 School arrested and removed student from commencement
It's not enough for a college to arrest and remove a student accused of harassment, at least according to a new Title IX ruling from the 6th U.S. Circuit Court of Appeals.
A three-judge panel found the University of Michigan showed "deliberate indifference" toward student Rebecca Foster, based on her alleged harasser's repeated flouting of restrictions placed on him by the university.
The ruling appears to undermine an opinion from the same court but different three-judge panel in December. That panel said the female plaintiff cannot claim Michigan State University violated Title IX policies simply because she is dissatisfied with its response – a sentiment echoed by the dissenting judge in the new ruling.
Accusers "must plead, and ultimately prove, that the school had actual knowledge of actionable sexual harassment and that the school's deliberate indifference to it resulted in further actionable sexual harassment against the student-victim," the December ruling said.
It was that standard of deliberate indifference that was in question in last week's ruling. "Under Title IX, a school may be held liable only for what it can control," Judge Jeffrey Sutton, a George W. Bush appointee, wrote in a scathing dissent.
The university "ratcheted up the protections at every turn," the opposite of deliberate indifference, he said: "If there is one thing sure to come out of today's decision, it will be a university's decision to expel first and ask questions later."
The University of Michigan did not respond to a request for comment via phone and email from The College Fix.
New York criminal defense attorney Scott Greenfield denounced the majority opinion in an analysis, noting it "perhaps tellingly" refers to the male student as the "respondent," even though he was not a party to the lawsuit. (The opinion doesn't explain why it identifies him as such.)
If UMich's response to Foster's complaint qualified as "deliberate indifference," the only possible remedy would be to expel an accused student upon report of the behavior, Greenfield wrote.
This section from Sutton's dissent also raises the possibility on how schools could easily now face liability on both ends of a TIX adjudication. pic.twitter.com/zKcNDPEdeV

— KC Johnson (@kcjohnson9) March 13, 2020
Student ignored restrictions imposed on him for a pattern of harassment
The new case centered on UMich's Los Angeles-based executive MBA program. Foster reported that she endured sexual harassment from a male member of the program during monthly residencies in Berkeley Hills.
The university responded to Foster's March 2014 report by imposing a no-contact order on the unnamed accused student, Judge Karen Nelson Moore recounted in the majority opinion. It also implemented "interim accommodations" that limited where he was permitted to stay and eat during upcoming residencies while it opened a Title IX investigation.
The harassment occurred beginning in 2013, with the male student making multiple physical advances on Foster, who repeatedly refused. According to the opinion, on one occasion he attempted to force himself onto her.
The managing director of the MBA program, Claire Hogikyan, told the unnamed student that he would be required to take his meals in a to-go container and eat outside of the residency dining room and would be placed in a separate hotel from Foster.
But while the university implemented these measures, the accused student told the school that Foster was getting "preferential treatment" and if the MBA program did not apologize to him, "things would get 'ugly.'"
He then sent an email to university officials where he called the Title IX investigation a "retarded witchhunt" and called Foster 'your psycho hobeast client" and a "lying slut whore," the opinion said.
After the email was sent, university officials ordered Hogikyan to remove him from the residency, but Hogikyan ignored the order, concluding that "there was no immediate danger and she 'thought removing him would escalate the situation.'"
However, after a series of classroom incidents at the April 2014 residency where the accused student flagrantly violated the no-contact order, university security told him that he could no longer attend class.
He responded by sending an email to several classmates explaining his absence, saying she made "false and vindictive" claims about their admittedly "inappropriate sexual relationship." But he holds "no malice for her" and her "world class tatas."
Shortly thereafter, Foster obtained a restraining order against him in Los Angeles. UMich warned him he would "not be permitted to participate" at the commencement in Michigan the following month, and any continued harassment would "put your receipt of a degree in grave jeopardy."
He showed up anyway and Foster shared a copy of the restraining order with the university police, who determined that it applied in Michigan as well. The accused student was then arrested and sent back to California.
MORE: Title IX doesn't give accusers right to dictate how colleges respond
Exactly. Colleges have now been put in an untenable situation, where they can't avoid liability no matter what they do. It's nuts. https://t.co/Vdv29gpxNl

— Scott Greenfield (@ScottGreenfield) March 13, 2020
A 'reasonable juror' could conclude 'indifference'
A district court disagreed with Foster's claim of deliberate indifference, concluding that "it would be simply impossible" for a reasonable jury to come to that conclusion based on the factual record.
But Judge Moore, a Clinton appointee who wrote the majority opinion, pointed to the university's response in specific situations when the male student violated the terms of the interim measures.
Though he texted Foster "really?" March 29 – a week after the no-contact order was issued – UMich accepted "a verbal assurance" from the male "that he would refrain from further harassment," Moore said. A "reasonable juror" could conclude he intended to continue harassing Foster.
The judge also pointed to the "lying slut whore" email to administrators, saying a reasonable juror could find UMich responsible because it did not remove the respondent from the classroom following this email.
Moore did note, however, that a juror could just as easily find that both incidents received an adequate response from the university.
Because the university waited six days to ban the male from commencement and future classes after learning he called Foster a "scrub" on Facebook and "made a threatening comment about her boyfriend," this could also be seen as deliberate indifference, the judge said.
Not even the plainclothes police officer stationed outside of Foster's residence before commencement, who arrested the male when he appeared on campus, was enough in Moore's view. A juror could conclude its response was "clearly unreasonable" in light of the threat to Foster.
Foster first reported 'unspecific allegations'
Just as Judge Moore cited several examples of UMich's potentially indifferent behavior, Judge Sutton noted the compressed time frame in which UMich was forced to act.
Foster reported "unspecific allegations of harassment" to UMich March 13 and didn't detail them for another week, "when she sat down for a Title IX interview," Sutton wrote. By then there were only three days of in-person classes left in the program, and then commencement:
The University opened a Title IX investigation and put in place interim protective measures. It ordered the harasser not to contact Foster, banned him from her hotel, required him to eat meals separately from the group, instructed him to leave any social event she attended, and warned him against retaliating in any way. The University assigned two administrators to monitor his activity and assist Foster if any issues arose. That is not deliberate indifference.
Sutton noted that the university "made sure the problem did not undermine Foster's education or performance" by excusing her from class participation, granting her extensions on assignments and informing professors of the situation.
"It also offered her and the harasser the opportunity to finish their education elsewhere. Each declined. That is not deliberate indifference," he added.
"By enforcing its no-contact order through escalating sanctions, the school did all it could
to help Foster," Sutton concluded, saying that only Foster "had access" to other measures such as going to court for a no-contact order.
Greenfield, the criminal defense lawyer, wrote in his blog post that the "one rational option" available to universities interpreting this ruling was "get rid of the male student."
This is "not because far lesser options aren't available and won't work, but because the good-faith efforts to address them using reasonable means won't protect the school from subsequent Title IX liability," he wrote.
MORE: UMich in trouble for not letting students cross-examine rape accusers
IMAGE: Everything Possible / Shutterstock
Like The College Fix on Facebook / Follow us on Twitter